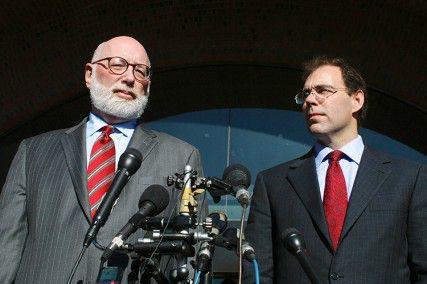 James "Whitey" Bulger has been sentenced to two life sentences in prison plus an additional five years after being convicted of various counts of murder, racketeering, extortion and money laundering on Aug. 12.
Judge Denise Casper handed down the sentence just after 10 a.m. on Thursday at the U.S. District Court in South Boston after an extensive trial and testimony from victims' family members Wednesday morning.
"The testimony of human suffering that you and your associates inflicted on others was at times agonizing to hear and painful to watch," she said. "At times during the trial, we were watching a movie and what we were hearing wasn't real … we were hearing about the real, inhumane things humans did to other humans, seemingly without remorse and without regret."
Casper also said Bulger's actions during the '70s, '80s and early '90s as leader of the Winter Hill Gang in South Boston were committed solely to gain money and power.
"The motivation for your entire criminal enterprise was money," Casper said. "Money in extorting more money … Money in dominating the drug trade in South Boston … Your crimes, in my estimation, are made all the more heinous because they were all about money."
In addition to serving time in prison, Bulger, 84, must pay $19,510,276.43 in restitution to victims' family members to make up for their intangible losses, Casper said.
"Sir, you chose to be a fugitive from justice," she said. "You remained a fugitive for 16 years. In the meantime, in the lives of the victims' families, milestone after milestone was passed without their loved ones."
U.S. Attorney for the District of Massachusetts Carmen Ortiz said Thursday was a great day for the United States.
"The myth, the legend, the saga of James Bulger is now finally over," she said outside the courthouse. "As we heard yesterday from a number of the family members of victims, he is ancient history… James Bulger deserves nothing less than to spend the rest of his life in jail for the harm, the pain and the suffering that he has caused to so many."
Outside the courthouse, Hank Brennan, one of Bulger's attorneys throughout the duration of the trial, said Bulger will appeal on the grounds that Bulger was not allowed to testify about his alleged immunity from indictment. The defense team has 14 days to file the proper paperwork.
"There's still a story, there's still evidence, there's still people accountable that haven't been targeted, haven't been prosecuted, haven't been focused on," Brennan said. "For people to have a true sense of understanding and healing, at some point, there has to be a level of government accountability, not just for other people that they target and point at, but for themselves."
Brennan said without Bulger's testimony about the government's corruption, the trial cannot be complete.
J.W. Carney, Bulger's lead attorney, said Bulger was pleased with how he conducted himself during the recent hearings.
"Jim is pleased that he held to his principles and did not participate in the sentencing portion of the trial," Carney said. "It took a lot of discipline for him not to react emotionally to some of the statements that were made yesterday and he's proud that he was able to conduct himself in that fashion where he did not react or speak during the sentencing portion of the case."
While Bulger does plan to appeal, Carney said it has nothing to do with Casper or her method of presiding over the trial, but rather Bulger's desire to explain about his true relationship with late federal prosecutor Jeremiah O'Sullivan, the federal agent who allegedly granted Bulger immunity.
"We will be appealing the fact that Jim could not testify about the arrangement he had with Jeremiah O'Sullivan, nor call witnesses who would have corroborated that," he said. "It's an issue of law to be decided by the Court of Appeals. That's different from how the judge conducted the trial and I applaud Judge Casper for the way she handled it… She was extraordinary throughout the case."
During the proceedings, Casper said while much has been written and will continue to be written about Bulger, he does not represent the city of Boston.
"This year, 2013, with all that's happened … you and the horrible things that were recounted by your cohorts during the course of this trial do not and should not represent this city," she said. "If anything represents this city from this trial, it's that … a jury did the hard work that jurors do and rendered a fair and just verdict."