Diversifying the college experience through the performing arts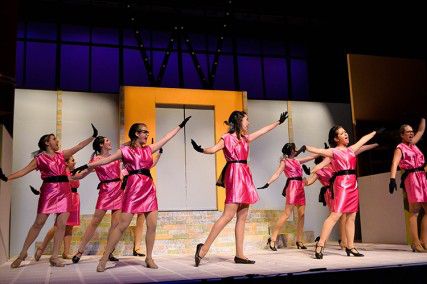 Kathryn Vaz, now a College of Communication sophomore, took art classes every year during high school. She was vice president of the drama club and participated in countless state-wide acting competitions. She even started her high school's photography club. However, Vaz said she chose to major in Film and Television in COM instead of studying in BU's College of Fine Arts because it was more practical for her future career aspirations.
At BU, Vaz and many other students have used extracurricular performance troupes, clubs and even a cappella groups as artistic outlets while studying different fields.
Many students who were invested in various activities during high school are told to use their opportunities in college to focus on their future career prospects. However, focusing too narrowly at the undergraduate level can be one of the worst choices for students looking toward their future, according to a Nov. 15 Wall Street Journal piece by Peter Cappelli, from the Wharton School.
McCaela Donovan, senior staff assistant in the School of Theatre, agreed that students who are involved with the arts and humanities acquire certain skills that are applicable to everyday life and the flexibility needed in the professional world.
"I think students who have studied theatre have a higher job placement because they are better in interviews, through being more self-aware, and their interpersonal skills are stronger," said Donovan. "Their confidence is stronger and because they are so used to being in front of people they have a much stronger capacity of interacting with people."
Donovan said she could tell which students have had past experience in the arts.
"The students who do participate are more empathetic, more open to change and have an easier time with flexibility," Donovan said. "Arts people are just a lot more open and receptive in general."
Vaz said she chooses to participate in the arts during college because she feels something is missing from her life when she is not performing. She is involved in BU's Wandering Minds theater group, which recently performed the play "Chamber Music," featuring Vaz in the role of the Girl in Gossamer Dress.
"I love the process of making a piece of art when people positively respond to the pieces I make," Vaz said. "There's a certain admiration for the amount of time and passion one has to have to make a piece of art."
Vaz isn't the only BU student with the desire for an artistic outlet. Joe Reed, College of Arts and Sciences and COM senior, came to BU knowing he wanted to continue participating in theater. He has been involved with On Broadway for the past four years, balancing the arts with his political science and mass communication studies.
"On Broadway may not directly be the most helpful thing toward my majors, but it gives an outlet to do something I love and that enhances my college experience immensely," Reed said. "Without On Broadway, my experience at college would be completely different and significantly less exciting."
While the arts serve as an outlet for students to express their creative abilities, they also provide students with skills that enhance their academic and social abilities in a variety of ways, such as preparing them for future jobs and building character.
"Stage Troupe gives us opportunities to experiment and flex our talents," said Kyle Tague, a COM sophomore and member of Stage Troupe. "In short, it has let me experiment with a wide range of disciplines, and I think my experience has been richer from it."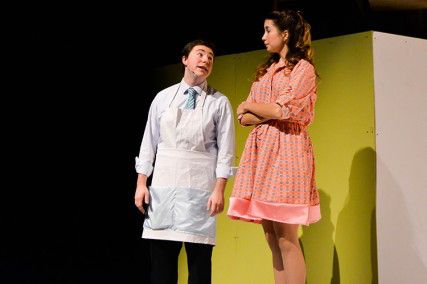 Tague, who wants to direct films after graduation, said Stage Troupe gives him a real-life platform to practice his skills.
"I think in order to properly direct actors you have to have acted yourself," Tague said. "Theater direction parallels film direction, so in that sense Stage Troupe has already been rewarding in giving me the opportunities to hone my directing skills."
Mary Miller, a COM senior, said she was drawn to the arts at BU because they give her a break from stress and work. Miller also said that she acquired the skills of confidence, creativity, strategy and discipline from participating in On Broadway.
"Theater has helped me feel comfortable in presenting in front of class, articulating my ideas and thinking on my feet," Miller said.
Stage Troupe member Ben Moll, a College of Engineering sophomore, plans to connect his major, electrical engineering, and his interest in theater in his future endeavors.
"I really would love to pursue a career in electrical engineering for a theater company," Moll said. "Ideally, I'd be designing electrical devices that are vital to a show's production. This helps me to keep pushing on in my major even when I think I might not be cut out for it."
Moll also shared his insight on how theatre constantly assists him in his confidence.
"I've acquired a confidence that has been really helpful when applying for jobs and internships," Moll said. "Constantly working with new people has been a great way for me to work on my first impressions."
Jamie Lin, a COM junior and a member of Wandering Minds, said she has seen her self-esteem and self-confidence improve as a result of her joining the group.
"The explosion of creativity in more practical fields is often about toning it down and refining," Lin said. "But in creative writing and performance, it's really about exploring every facet and embracing the possibilities of your imagination."
Not only are these groups an outlet to express one's artistic desires, but they are also a place to meet other students with varied backgrounds.
"I have met some of my best friends and made connections with so many different people in the last few years through On Broadway," Reed said. "Each show brings a different experience and completely different people to work with and it is really incredible seeing so many people come together and make theater."
CAS sophomore Rachel Wein said as a freshman, she was welcomed to Stage Troupe, where many of the older students took her under their wings and made her feel at home.
"I love the arts at BU because every group has built such a strong sense of community and I love getting to be a part of those families," she said.
Wein heavily involves herself in several different extra-curricular groups. She sings in the a cappella group In Achord and performs with both Stage Troupe and On Broadway. Wein said the arts teach her skills she will use for the rest of her life, such as confidence and patience.
"Through participating in In Achord, I've learned how to have patience, which is extremely important if I want to work with children," Wein said. "Also, teaching parts of music to my fellow group-mates has taught me how to teach those who learn differently than I do."
Wein also mentioned how the arts complement her social life.
"Through participating in all these different arts groups at BU, I have met so many different types of people, all whom bring out different parts of myself," Wein said. "The people I have met through arts programs are some of the most accepting, open, interesting, funny and amazing people in the world."
Wein said she plans to continue her participation with theater after college.
"I think the arts will be a part of my life forever," Wein said. "Even if I don't perform in plays when I'm older or sing in an a cappella group, the arts are such a large part of my life that I'm sure I will find a creative outlet."
The theater ensembles often serve as a "home away from home" for many BU students, such as Haley Castuera, COM freshman and member of the a cappella group The Treblemakers.
"Not only am I doing what I love, but for the first time in a long time, I feel at home with a group of people outside my family," said Castuera. "We're basically like a family and I couldn't ask for a better group of people to spend a majority of my time with."
Along with serving Castuera's social experience in college, the Treblemakers have also helped her with time management skills.
"We've had a lot of weekends full of gigs and events, so knowing that I have a full weekend, homework and rehearsals twice a week has led me to become more organized with my time and workload," she said.
Time management and social skills are just two of the things employers value when seeking new workers.  Employers reported that they value attributes such as internships, employment, and extra-curricular activities before they look at coursework and GPA, according to a survey by the Chronicle of Higher Education.
Students across the university who participate in various activities may not be investing time in their particular future career, but perhaps in something that may be more important in today's job climate. Regardless, the students all have one thing in common.
"People in theater are endlessly creative, resourceful, enthusiastic, multi-faced and talented," Tague said. "We all have wildly different majors but have common ground in our love of live theater."