BU students get involved with training for the 2014 Boston Marathon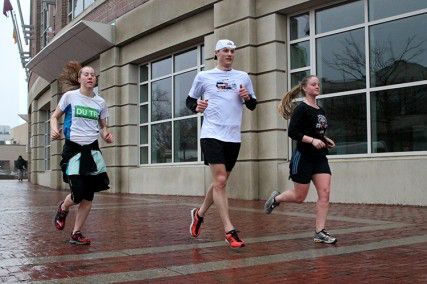 As temperatures drop to near or below freezing for the next few months, those who have decided to participate in the 2014 Boston Marathon are lacing up their sneakers for longer and more frequent training runs.Nick Smith, a second-year medical student, meets with Boston University's Triathlon Team in front of the Fitness & Recreation Center at 7 a.m. on a rainy Friday morning.  Wide awake and full of energy, Smith joined the team to stay active and keep a positive mentality while studying at BU's School of Medicine. He also uses the team's Friday morning runs to train for the upcoming marathon in April.
"This is so much better than running on your own," Smith said. "The team is what gets us here so early every Friday morning."
This sense of community and support is what makes the Boston Marathon so special, Smith said. He has run the Boston Marathon four times before.
"I've trained alone, and I've run other races where you're out on the course by yourself, and it's so miserable," he said. "It's hard to be miserable when there's people cheering you on every block of the race."
Despite the community surrounding the race, many people, and especially students, have encountered obstacles in becoming official entrants for the marathon this year.
The Boston Athletic Association expanded the field of the marathon to 36,000 runners, 10,000 more than in 2013, in order to accommodate the increased interest after the bombings last spring, according to BAA Executive Director Tom Grilk in an August press release.
There are two ways to acquire official entrance to the Marathon: making the qualifying time at another approved race, or raising money and running with a charity team.
First, applicants must be 18 years old to run the marathon, which means the amount of time to qualify for some undergraduates is limited. Second, the charity teams, which provide an opportunity to run for a cause and to be eligible without making the qualifying time, have increased the amount they request each runner to raise. The actual number of charity teams has stayed consistent.
"So many people here want to run," said Hannah Breck, a Sargent College of Health and Rehabilitation Sciences sophomore. "I wish it wasn't so hard to get students involved."
The difficulty in registering to run leads to bandit runners, who will run the race without an official bib. However, their times will not recorded and they will not receive recognition at the end of the race.
Breck said she considered "banditing" the race, but decided against it.
"If I'm going to do it, I want the medal," she said. "I want to accomplish the race and accomplish it for charity. I'd want it to be official."
Despite the obstacles, BU students are finding ways to get involved in the upcoming marathon.
The Charity Route
Having attended high school in Brookline, Breck said her home was on the course of the marathon. When she was a junior in high school, her mom completed the marathon for the first time.
"I jumped in and finished it with her for the last three miles," Breck said. "It was such a cool experience. People were cheering the whole way."
Breck said when she began running in the seventh grade, her mom was her first cross-country coach.
"When I finished the Marathon with my mom that year, it was such a proud moment for me," she said.
Since then, Breck has been waiting to run the marathon herself.
"You have to be 18 to run, though," she said. "Last year was the first time I was eligible to run, but it got away from me. What happened in April is just motivating me more to run this year."
Breck applied to run for countless charity teams, getting more and more frustrated with each rejection.
"It's hard on students for this process — they [charity teams] are looking for people who raise the most money, like big corporations," she said.
Breck was finally accepted by the charity team for buildOn, a non-profit serving disadvantaged youth in the Boston Public School through service and education.
"My best friend's mom is involved in the charity, so I've heard stories about their cause and already feel connected to it," she said.
Starting her fundraising website just last week, Breck needs to raise $6,500 by April. She plans to send handwritten letters to family and friends and to reach out to BU alumni. This is Breck's first time fundraising and also will be her first time running a full marathon.
"I've done four half-marathons," she said. "I was hesitant to make this my first full one because the training is in the winter. Having to run in the cold and the dark will be challenging. I'm going to need people to run with me."
Boston's marathon is one of the hardest around, but Breck said she is doing it for the symbolism of the event, not for her best personal time.
"If you're going to do it, this is the year to do it," she said. "People are most passionate about it."
Soon, Breck will begin a regimen of waking up early to run five or six days per week.
"If I don't do it in the morning, I won't do it," she said.
Though eager for the upcoming race, Breck remembers watching it with her friends in Kenmore Square last year. She recalls the number of text messages she received when she got back to her dorm to charge her phone from people she hadn't talked to in years asking if she was safe before she even knew something had happened.
"Actually, I'm not nervous," she said. "It's cliché to say 'oh, Boston Strong,' but I'm not afraid and I want to show that by running it."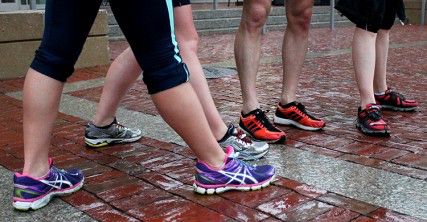 Coaching
Nick Wendel, also a member of the BU Triathlon Team, chose not to run the marathon himself, but to coach the Goodwill Foundation's charity team instead.
"It's funny, the NYC [New York City] marathon couldn't get enough charity runners," he said. "Here, they've had to restrict it so much."
Wendel studied athletic training in Sargent College of Health and Rehabilitation Sciences and is now completing his fifth year of the six-year physical therapy program. In 2013, he helped coach a charity team and then spent the day of the marathon volunteering in the medical tent with some of his classmates.
"I was on back-up," he said. "I was stationed at the Arlington T stop, making sure everyone was okay. It was a tough day. It affected BU a lot. After helping out last year, I really wanted to spend this year motivating a team to run."
Wendel is working on organizing their training program, scheduling the team to do the long runs together, which usually last from one to three hours, depending on the speed of the runners.
"You really need motivation during training seasons," he said. "When it's 10 degrees and you have to run for three hours, you need a friend to do it with you. Running clubs and charity teams are a great way to do that."
Any time someone trains for a marathon, there are many mental obstacles, and this year will be no different, Wendel said.
Before the marathon, the runners need to get up to 18 or 22 miles in a run. If it is the first marathon a runner is racing, then the day of the marathon will be the first time he or she completes the full 26.2 miles.
"I just want to motivate them to run," he said. "I can train them, but I can't run it with them."
One Way or Another
Last April, Smith, a Maine native who is no stranger to the Boston Marathon, finished just short of the qualifying time for this year's race.
"I remember walking around pretty depressed right after the race," he said. "I just missed it."
He found the person he was looking for right away and headed to the Westin Hotel in Copley to grab his bag before he felt the boom — which he said felt like an earthquake — from the bombs.
"I was with another med student at the time, and we were first-year med students," he said. "We wanted to go do something, help out in someway. But if you know anything about medical school, you know that we didn't know anything — and I mean anything — yet."
This year, the BAA offered 467 bibs to people affected by the blasts in April. To receive a bib, potential runners had to write letters describing how they were personally involved. Smith was one of the people who wrote in.
"Everyone has about a dozen close calls they could talk about from that day," he said. "Your coach that was there four minutes before the bombs went off. Friends that say they would meet you at the finish line, but just never made it out that day. Some that had turned the block to grab a coffee."
However, Smith did not receive one of the bibs that were given out earlier this week. He has decided not to run for a charity team because he does not feel he has enough time to devote to fundraising.
Regardless, he said he is still determined to run the marathon, one way or another.
"I do it because I love running, and I'm going to find a way to run it again this year," he said. "If I'm not running as an official entrant, I'll be banditing. Banditing is somewhat frowned upon — it cancels out those warm feelings of winning, but it's physically the same."
Always excited for another run, Smith said he is looking forward to the support and sense of community in 2014's marathon.
"People are always running in memory of someone or for a cause," he said. "It's always been an empowering race, and it's going to be even more so this year."