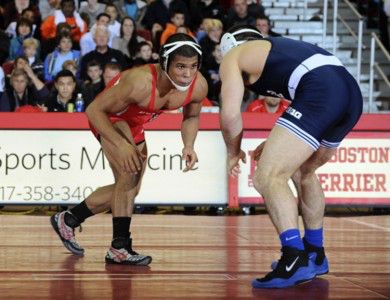 As the Boston University wrestling team continues the campaign to save their team from discontinuation after the 2013-14 season, team members have been competing with a heightened sense of urgency and passion, said team captain Kevin Innis.
BU Athletics announced on April 1 that they will no longer support the BU wrestling team at the varsity level after the current season. Innis, a Sargent College of Health and Rehabilitation Sciences senior, said the team's impending fate has compelled his team to compete and train with more intensity.
"If anything, it has kind of put a fire under us," Innis said. "The locker room hasn't been dead just because of the news … Knowing that tomorrow isn't guaranteed for us, we've got guys who, every time they step out on the mat, their motivation is to win and to compete."
Innis said he and his teammates have used every match as a chance to prove to BU Athletics officials that the team deserves another season. Now, halfway through, the team is hopeful BU will reconsider their decision to cut the team.
"We're going to save it [BU wrestling team]," Innis said. "Talk with any BU wrestler and they are going to be all in with it, and say that we are going to save it. There's a ton of support and a ton of people are now catching wind of it."
Over the course of the season, BU wrestling team members have promoted their campaign to save the program across various social media platforms such as Facebook and Twitter, said Nestor Taffur, BU wrestling captain and Metropolitan College senior. Their fight has garnered major attention in New England, drawing in major news outlets such as The Boston Globe and Channel 4 News.
The team has received a significant amount of support from alumni, friends and family, as well as from BU Student Government and BU Greek Life, Taffur said.
"We are making light of the bad decision and people are starting to realize the injustice brought upon our program," Taffur said.
The BU wrestling team completely sold out Case Gymnasium last week when they competed against Penn State University, the number one college wrestling team in the country, said head coach Carl Adams.
"There are a lot of people who understand the battle that we are in trying to save the program, and they are trying to be supportive," Adams said. "What this particular match shows is the viability of the sport on a college campus. Anytime that you can pack a gym and have a sell out, regardless of who's coming in, that shows there is a very high interest level in that particular sport."
The BU wrestling team's record is currently 1-4. This record, however, does not tell the entire story, Adams said.
"They [BU wrestling] are up battling a lot of factors, and I feel like they are showing a lot of courage," Adams said. "We have lost a whole recruiting class … and so that is something they have to deal with on a daily basis, while trying to be the best they can be."
Assistant coach Sean Harrington said since BU Athletics announced their plans to cut the wrestling program, the BU wrestling team has proven their passion and resilience.
"We're a team of successful individuals," Harrington said. "I don't know if they [BU Athletics] are willing to have a change of heart or if they are willing to look objectively at what we're doing this year… But they should be, because I think this year has shown that we are one of the strongest teams on campus."