The No. 8/9 Boston University women's hockey team will head to Schneider Arena Friday hoping to start a new winning streak when it takes on Providence College.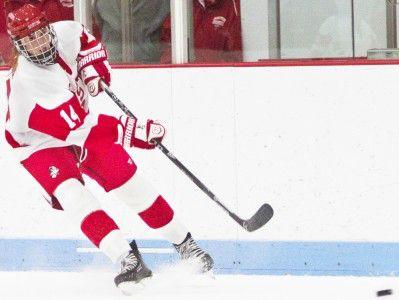 On paper, the matchup appears to be one-sided, as BU (16-4-1, 9-1-0 Hockey East) scores an average of 3.24 goals per game and only allows 2.14 goals per game, both second in the Hockey East, while Providence (9-14-0, 4-6-0 Hockey East) scores 2.65 goals per game, and has one of the most porous defenses in the conference, allowing 3.39 goals per game.
BU coach Brian Durocher, however, said he does not view his team as the odds-on favorite in the game.
"We haven't had a team that's won by a significant margin every day," Durocher said. "We're not a prohibitive favorite against anybody. We have to earn every win. We'll hope to get out of Providence and bring our 'A' game, but it's always tough when you go on the road."
Despite their early season struggles, the Friars' strength certainly lies in their offense, as forwards Corinne Buie and Cassidy Carels provide the team with sufficient firepower to keep any defense honest.
Buie leads Providence and ranks fifth in the Hockey East with 24 points (seven goals, 17 assists), while Carels has put up 11 goals this season, good for the team lead and fifth place in the conference.
"They'll really go hard at the offensive net," Durocher said. "We've got to make sure that we're ready to stand our ground and we're ready to turn and pick somebody up around the cage and not let them potentially have some advantages with some forwards who are pretty big kids."
Providence has the 3rd-ranked scoring offense in the league, which could spell disaster for the Terriers, as BU has racked up the second-most penalty minutes in the Hockey East, which could lead to trouble on possible penalty kills. The Terriers do have the top-ranked penalty killing unit in the conference, though, and will need the group to play as it has all year. However, it is Providence that sits atop the Hockey East in penalty minutes, so BU may get its fair share of power-play chances as well.
Durocher said he spoke to his team about the need to become more disciplined.
"I'm not comfortable [taking so many penalties]," Durocher said. "We talked about it, tried to address it … The lazy back-checks, those are the ones that we just have to eliminate … But we've got to work hard to win the penalty game, as I tell the ladies."
Fortunately for the Terriers, they have a few scoring weapons of their own who will attempt to outscore the Friars' stout offense. Sophomore forward Sarah Lefort has taken the Hockey East by storm this season, leading the conference in both goals and points (30 points, 17 goals, 13 assists). Senior forward Louise Warren is not far behind, ranking third in the league in goals and points (26 points, 15 goals, 11 assists).
In three games since the month-long break, Lefort and Warren have continued their success, putting up two goals each. Lefort also added four assists in that span, while Warren has posted two.
In addition to that fearsome duo, freshman forward Maddie Elia has begun to contribute to the scoring of late. In the same three-game span, Elia put up two goals and three assists, all of which came in BU's two most recent victories.
Durocher praised Elia's long reach and accurate shot.
"Maddie [Elia] is one of those kids who has a dynamic with her reach and her hands," Durocher said. "And she's also shown a real good shot. She's had opportunities, she's put the puck in a good spot and either scored a goal or made the goalie make a great save. And usually once or twice a game she beats somebody cleanly, and not everybody on the ice can do that."
With such a large portion of BU's scoring coming from just a few players, Durocher said going into the matchup with the Friars, he would like to see more of his forwards get in on the action.
"I think we've got to get back to just a whisker more balanced scoring … we certainly want to make sure others are getting on the score sheet," Durocher said. "If you can have offensive production come from more than one line or more than a couple of players, then it usually bodes well for your team."