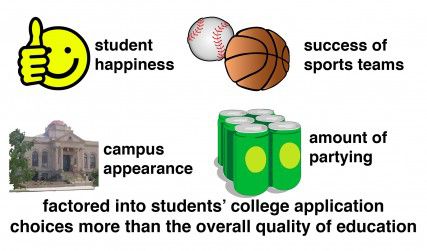 As the pressure to commit to institutions of higher education such as Boston University plagues college applicants, a study published Thursday suggests a university's quality-of-life ranking may trump its academic rating in the decision-making process.
"It's a major transition to go to college," said School of Education professor Evangeline Harris Stefanakis. "You want to be in an environment where you feel you're in a positive place socially as well as academically a place you can grow. People care what their peers think. Whenever you join a club or buy a car, you get the information about what others who you respect think. Rankings do the same thing."
The study, which was conducted by researchers at Columbia University, found that an institution's rankings in student happiness, campus quality and desirability of location weighted more heavily in increasing applicants than overall quality of education.
"People care about where they're spending their time and how much time their college is spending on social stuff," said Rendall Reback, who co-authored the study. "People tend to look at that, stuff like the success of sports teams, quality of life, all that."
While receiving high rankings for campus beauty or student happiness increased a college's number of out-of state applicants, ranking in the "Top 20 Party Schools" list predicted an eight or nine percent decrease in out-of-state applicants, the study stated.
"For some people, even among students who do like to party, there are different effects on whether or not they like the idea of attending a school known as a party school or that a parent would allow them to attend a school with that reputation," Reback said.
BU's sophisticated facilities and motivated students foster a high quality of life and contribute to the steadily growing number of applicants it receives, said BU spokesman Colin Riley.
"We do have great facilities, outstanding faculty and students who are high achievers who arrive here for a quality education," he said. "When that's affirmed here, when they see someone else affirm the quality of their university [on ranking websites], it makes them happier with their decision, and it's shown in the attrition rate of student applicants … Our attrition rate has been steadily increasing through the years"
Lauren Howard, a College of Arts and Sciences freshman, said many of BU's online rankings made her hesitant to attend.
"I almost didn't attend BU because I read a lot of bad things online," Howard said. "How BU is overpriced and how that money doesn't really come back and benefit the students very much, and I read a lot of reviews from people who weren't really happy with their lives here at BU. The percentage of students who transfer out of BU is an important factor also … I was definitely hesitant about coming to a school where people weren't happy."
College of Fine Arts sophomore Audrey Mercadante said although she considered college rankings, they did not play a huge role in her college selection.
"It definitely played a part in my decision, however BU happened to be the school I liked the most as well as the highest ranked out of the ones I got into," Mercadante said. "… It was my first choice before I even saw the rankings. I don't think rankings should play too big a role in people's decisions."
Nicholas Pantages, a CAS senior, said college rankings are valuable in preparing applicants for the obstacles they could potentially face as students, but are not always realistic.
"You can get a good idea of what issues you might run into when attending school there," Pantages said. "I took them into account, but at the same time you have to realize that schools fit better for different people. You have to trust your instinct and if you're feeling great about a school, you shouldn't let online reviews dissuade you … They're either super good or super bad, not always realistic."