With the Beanpot Tournament only a week away, the time for the Boston University women's hockey team to play strong hockey is coming closer by the day. Losses in their last four games, the longest losing streak of the season, has the Terriers limping toward the Beanpot, which opens against Boston College Feb. 4 at Conte Forum in Chestnut Hill.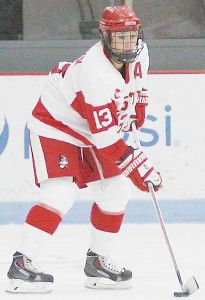 BU coach Brian Durocher said he believes BU's struggles emanate from the team's inconsistent defense, tendency to take excessive penalties and inconsistent goaltending over the last two weeks.
"I don't get the feeling that we're making the greatest reads," Durocher said of the defense. "There comes a time in the game where you have to be aggressive. There comes a time to play conservative and a lot of times, it's sort of a neutral stance where you make good, smart reads and you're not crashing down in situations that are going to result in three on twos and you're not getting three forwards caught behind the net. You're not getting people on the wrong side of the puck.
"We need to make sure to correct and ultimately play a little bit smarter as far as that goes."
To help alleviate the issues, Durocher said he and his staff have gone over a lot of video with the team.
"We try to show them a little bit of video, some live situations that happen in games," Durocher said. "We try to stress it in defensive zone coverage drills or back taking drills and then obviously it's a matter of the split-second decisions that take place in the game, bringing it to the game and making good decisions."
While she started the season with some of her best play in her four-year career with the Terriers, senior goalie Kerrin Sperry has struggled the last two weeks. In her last three starts, Sperry has allowed 10 goals in losses to Providence College, Northeastern University and the University of Vermont. Despite the struggles of late, Durocher said he is sticking by the senior netminder.
"I think we have an all-star-type goalie in net in [Sperry], and we have a young lady in [freshman goaltender] Victoria [Hanson] who is going to be fantastic college goalie," Durocher said. "With the senior-freshman split, I don't want to start a controversy. [Hanson] has done a fantastic job and Kerrin's done a fantastic job. It's part of a building of a team, not just one goalie or the other."
Fratkin shines 
One of the few bright spots during the Terriers' trip up to Vermont (11-12-4, 7-6-1 Hockey East) was the play of senior defenseman Kaleigh Fratkin. Fratkin tallied a goal in each the games against the Catamounts, while playing a solid amount of minutes for the BU defense.
With her performance with the Terriers, Durocher said he believes Fratkin is one of the preeminent skaters in all of college hockey.
"She's very durable, very strong out there," Durocher said of Fratkin. "Her goals were two different types of goals. One was kind of a quick slap shot that she had her eyes on from the point and the other one she got up in the center lane and knocked in a rebound off [sophomore forward] Sarah Lefort's shot.
"Off the ice and in the locker room, she's a respected person for her ability, her work ethic, what she brings to our team. We need her to play great defensively and whatever happens offensively, I call that gravy."
Durocher said having a bright spot in Fratkin in the wake of the losing streak is important to rebounding as a team.
"Your state of mind goes a long way and winnings makes you a lot happier than losing," Durocher said. "Winning probably generates more confidence so that's our charge, to see if we can put a win together. The best way to put a win together is every shift, every five minutes or every period, you see yourself winning those individuals battles. The one minutes, the five minutes, the periods will start to add up if you keep winning."
Durocher mixing up message 
The recent losses have not led Durocher to panic. Instead, the coaching veteran has tried to change the tone of his message to light a spark in his players.
"You become a little bit more nitpicky in looking for things, finding things and showing them things that have lead to the four game losing streak," Durocher said. "In some ways, you work a little bit harder because ours is a long season, they don't need to hear me correcting them on every little thing all of the time.
"If you understand concepts and you play hard, good things will happen for you."