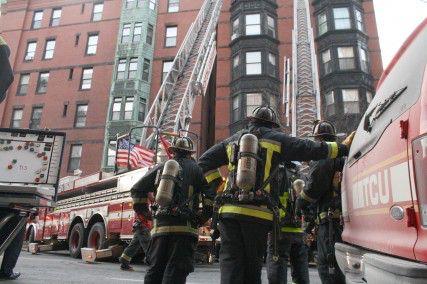 After 20 weeks of grueling training, 51 military veterans were inducted into the Boston Fire Department on Tuesday with Boston Mayor Martin Walsh in attendance.
These graduates began their 20-week training in September, consisting of learning how to deal with every situation firefighters will face in their careers.  The firefighters who graduated Tuesday have already been at their assigned departments for a week.
"It's under state law that veterans have to be hired before non-veterans," said Steve MacDonald, spokesman for the Boston Fire Department. "It's a very desirable job. A lot of people want to get hired as fire fighters [and] thousands take the test … it's a good solid job and it appeals to a lot of different people. You can come and work for 30 to 35 years and continue to serve people."
Walsh attended the 12:30 p.m. ceremony and spoke for the induction of the 50 men and one woman newly accepted into the fire department.
"This is not an easy job," Walsh said. "It can be dangerous and unpredictable.  When people are running out of buildings, you are running into buildings.  But you have been trained well … And you are ready to join the best fire department in the country, and to make it even better."
Entering the workforce of the Boston Fire Department is a long and difficult process, beginning with a three month application process and then 20 weeks of training at the Boston Fire Academy. Just making it to the training phase takes extreme dedication, said Macdonald.
"Virtually anything you can think of, they get trained for," he said. "It's very complex, it's a lot of information to absorb and that's just the book stuff. When they actually get out to the fire house, it's learning what it's really like. [Getting hired is] very intense. It's psychological testing, it's medical testing, it's strength testing, it's character [and] it's background."
Veterans are consistently the majority of the Boston Fire Academy graduates, usually around 80 percent of the force. MacDonald said that prior military experience prepares veterans for the fire department, another reason why such a large percentage of graduating classes consist of veterans.
"Veterans certainly have a background in taking commands, working as a team to achieve a goal and they've been in some serious situations where they've had to make split-second decisions," he said. "They're definitely an asset to the department."
Some residents said many military veterans join the fire department because that kind of service is really all they know how to do.
"I am a military veteran, served in Vietnam," said Russell Baldwin, 66, of the South End. "No matter what the government says, we're still in a recession and people need jobs … These veterans aren't really trained for any civilian jobs, and the fire department is required to hire veterans first."
Susan Richards, 49, of East Boston said it's more than just practicality that leads veterans to join the fire department.
"People join the military because they have a passion for that kind of service," she said. "A lot of servicemen and women find it hard to return to a normal life, so this is a good transition."
David Morrow, 40, of Boston, said working with the fire department allows veterans to come home to their families while still serving people.
"People can only spend so much time away from their families," she said. "But these soldiers probably come home still having the same desire to serve the country, and this is a good way to do it."