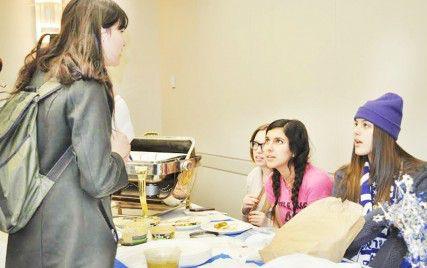 Over 200 students attended Boston University Students for Israel's first BU International Food Festival at the Photonics Center Wednesday.
"I've yet to go to or hear about an event like this at BU," said former President of BUSI and board member Leora Kaufman. "This is a breakthrough for stuff like this."
Kaufman, a College of Arts and Sciences senior, said the club held the festival in celebration of Unity Week, a nationwide event dedicated to promoting Israel in a positive light.
Aside from sharing Israeli culture, the festival allowed other international clubs on campus to exhibit their roots as well, Kaufman said.
"It's nice to meet other students interested in representing their culture," she said. "Why not bring our home cultures to campus? BU is our second home."
Along with BUSI, clubs representing Lebanon, Brazil, Taiwan, Armenia and India participated in the festival. Each club brought a staple dish from their home country.
The festival featured a buffet of traditional dishes and music that represented international clubs' cultures.
Christine Wu, a Sargent College of Health and Rehabilitation Sciences freshman, said the festival allowed her to better understand the unique range of students that attend BU.
"I knew BU was diverse, but it's my first time actually feeling the diversity," Wu said.
Kaufman said BUSI felt offering traditional dishes would attract students to the festival.
"When I found out there was an opportunity to try a bunch of free food, I came," said Raffi Kazanjian, a SAR senior.
Brian Richards, a CAS senior, said the festival allowed him to compare different cultures and find commonalities between them.
"It gives a little bit of insight into countries I didn't know [about]," he said.
Kaufman said the festival aimed to further promote BU as a multicultural campus and show that students are passionate about their home countries.
Participating clubs, such as BU's Taiwanese American Student Association, also advertised their upcoming events at the festival.
"We were definitely interested [in] promoting our culture," said BUTASA member Kevin Huang, a College of Engineering freshman.
The dishes offered at the festival needed to be cuisine BU's Catering on the Charles could not cook in order to be served at the event, Kaufman said.
Kaufman said BUSI plans for the International Food Festival to become an annual event.
In the future, BUSI hopes to garner interest from other clubs, incorporate a raffle and provide a larger range of food, Kaufman said.
Several students said they planned to return to the festival next year.
"I would come seven days a week," Richards said.