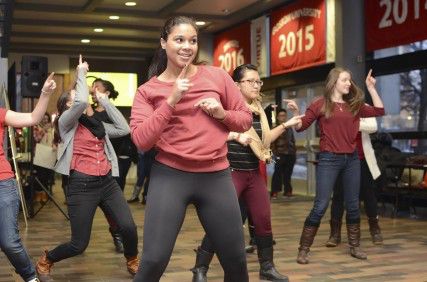 The Sexual Assault Response and Prevention Center held a flash mob Friday as part of the One Billion Rising campaign, a global initiative to end violence against women and encourage those who have experienced abuse to break their silence.
Sarah Voorhees, SARP's administrative coordinator who organized the dance routine, said the event was a fun way to engage students in an important cause.
"Every person of any gender deserves love, equality and respect," Voorhees said. "The One Billion Rising flash mob at BU aims to bring awareness to the violence that unfortunately still happens in our world, and lets students speak up and express themselves through dance."
This is the second year SARP has hosted the Valentine's Day flash mob, which drew about a dozen participants.
"We hope that each year the flash mob grows and One Billion Rising becomes synonymous with Valentine's Day at BU," Voorhees said.
Globally, Valentine's Day flash mobs were planned in approximately 200 countries, One Billion Rising announced Thursday.
Flash mobs also took place at colleges and universities throughout the country through Campus Rising, a smaller facet of the One Billion Rising campaign.
Participants prepared for BU's flash mob by learning the choreographed routine from a video released by One Billion Rising, and practiced as a group on Thursday.
The flash mob, which was originally scheduled to take place at Marsh Plaza, was relocated to the GSU Link due to Friday's weather conditions.
Urvashi Mohnani, a College of Engineering freshman, witnessed the flash mob when it broke out.
"It looked interesting and I figured I might as well stay and watch instead of disturbing them by passing through," she said.
Mohnani said she thought the music, One Billion Rising's anthem "Break the Chain," was an effective way to express the group's message.
College of Arts and Sciences sophomore Mikayla Huestis, who participated in the flash mob, said she hoped it would incite a dialogue about violence against women.
"It's a great cause," she said. "Globally it's a huge problem, but also especially here on college campuses there's a lot of silence on assaults that go on."
Courtney Jones, a CAS sophomore, said she hoped the flash mob would draw attention to women's marginalized status in society and the rape culture that accompanies it.
"By challenging people and putting it in their face, what is happening in modern culture, particularly in regard to violence against women, it shows that the misogynistic ideals of actual equality aren't being achieved," she said.
Jones said the message of zero tolerance for sexual assault and violence against women is especially important to bring to college campuses.
"There's a big ideology surrounding college campuses that it's the perfect place to do stupid things even if they're illegal, and that needs to change, particularly when it comes to violence against women," she said.
Lucy Mui, a CAS sophomore, said this was her first flash mob, but that she plans to attend next year's as well.
"I was a little bit nervous for sure because I had never done it before," she said. "The Link is one of the busiest places on campus, but it was, overall, a really good time."
One Billion Rising was first held on Feb. 14, 2013 to commemorate the 15th anniversary of V-Day, a movement to end violence against women.
One Billion Rising derives its name from the statistic that one-in-three women, or about one billion worldwide, will be raped or beaten in their lifetimes, according to V-Day's website.
Mui said she the flash mob was the perfect outlet for the message participants aimed to get across.
"A lot of these issues are presented in a really serious light and people don't readily accept that," she said. "Doing things like a flash mob, where you're bringing a positive attitude to it, will make people more comfortable about talking about it, which is important."