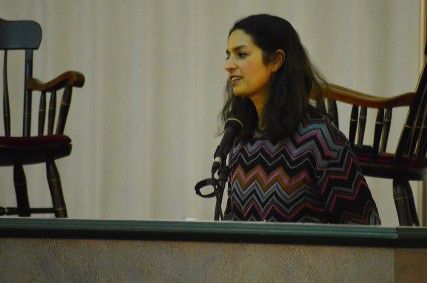 Pulitzer-Prize winning novelist Jhumpa Lahiri, a Boston University alumnus, spoke to more than 700 members of the BU community Wednesday night at Morse Auditorium as part of the Ha Jin Visiting Lecturer Series.
Lahiri, who won the Pulitzer in 2000 for her first collection of short stories Interpreter of Maladies, read from her latest novel The Lowland, which has been short-listed for the Man Booker Prize and the National Book Award. The Lowland chronicles the lives of two brothers who grew up in Calcutta, India, in the Tollygunge neighborhood during the 1960s.
Lahiri said she drew from personal experience to write the novel. The author's father grew up in Tollygunge, and Lahiri often visited the area as a child. The Tollygunge Club, a British country club located in the Indian neighborhood, figures prominently into Lahiri's new novel, contributing to themes of class, identity and belonging.
"The Tollygunge Club was a metaphor for my own life and continues to be a metaphor for my life," Lahiri said. "I have always felt like someone on the outside looking in."
Lahiri said she was forced to deal with this feeling while attending BU.
"I arrived here as a student of literature," she said. "That world inside the walls was writing fiction, and I was worried I didn't belong."
Lahiri also spoke about recently moving to Italy and the process of acclimating to life there.
"I don't feel like an American in Italy, I don't feel like anything in particular," Lahiri said. "It's giving me back a sort of place I need to be creatively. The place I feel most comfortable is the place I'm not comfortable. It's the impulse to move away for a while, to leave everything that has formed and shaped me."
After reading from the novel, Lahiri, who received an MA in English, an MFA in Creative Writing, and a PhD in Renaissance Studies from Boston University, was interviewed by Daphne Kalotay, a fellow author and alum who received her MA in creative writing and PhD in literature from BU, about the writing process.
Kalotay has also published several books, including Sight Reading: A Novel and Russian Winter: A Novel. During the interview, Kalotay described The Lowland as the first instance where Lahiri overtly tackled political matters.
Daniel Carman, a 2013 College of Communication graduate and a first-year graduate student in BU's School of Theology, said he agreed with Kalotay.
"I love the idea of The Lowland being her political novel and how much emotion went into this in terms of her history, everything with her father and her personal life," he said.
A factual account of the execution of Maoist insurgents in India served as a primary inspiration for a violent episode in The Lowland, which struck many in the audience, students said.
"I thought it was really powerful," Carmen said. "I got emotional myself in terms of hearing it."
Others said they were more interested in Lahiri's craft as an author.
"I'm not a writer, but it was nice to hear thoughts about the process and to have a little peek into what that's like," said Ataleigh Inhoff, a College of Arts of Sciences junior.
Inhoff said she enjoyed the short stories in Interpreter of Maladies.
"They're very insightful and complex, but not overwhelming," she said. "There's something very compelling about how she approaches her characters' lives."