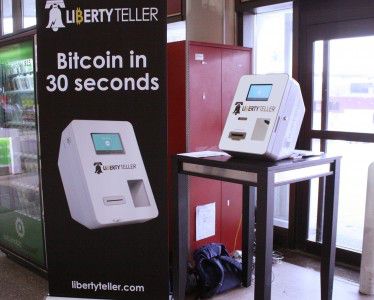 As part of a new, worldwide trend of the Bitcoin virtual currency, the first Bitcoin ATM in Boston was unveiled in South Station, increasing Bitcoin availability to residents.
This machine, uncovered Wednesday, was funded by New Hampshire manufacturer Lamassu, Inc. and Boston startup company Liberty Teller, and is a testament to the newfound, but unstable, success of the Bitcoin virtual currency.
Bitcoin has shown almost unchecked, fluctuating appreciation since its inception in 2009, causing the cryptocurrency to be considered unstable by many.
"A week in Bitcoin World is equivalent to a decade," said Mark Williams, Boston University School of Management professor. "Investors, consumers and retailers need to be very cautious as Bitcoins are very risky … they can move in value by 10 or 20 percent in a given day."
In 2011, a Bitcoin could be purchased for 30 cents. Bitcoin hit its market peak of $1,200 in late November 2013, making many believe that Bitcoin was poised for success. Today it trades at $550, said Williams.
The anonymous nature of Bitcoins has made them an attractive option for purchasing illicit goods or services on the web, which taints their reputation, said Boston University economics professor Randall Ellis in an email Friday.
Despite this, more legitimate businesses are starting to assimilate into the Bitcoin world. Popular online retailer Overstock.com started accepting Bitcoins as payment last month.
"We saw both a business opportunity and a philosophical opportunity," said Overstock.com Director of Communications Judd Bagley. "We saw a good opportunity to convert many [Bitcoin users] into loyal Overstock.com customers … Philosophically, we wanted to lend support to the alternate currency movement in general."
Williams said while Bitcoins are gaining popularity and publicity, there's still no way to tell how or if they will shape the way we make monetary transactions in the future.
"Bitcoin is only in the second inning of a nine-inning ball game," he said. "A lot can happen before the seventh inning stretch."
Prior to the Bitcoin ATM, the average user had to go through multiple steps in a process that could take several days, all in order to convert their dollars to Bitcoins. Now, all you need is a smartphone, the ATM and cash. The machine scans a barcode displayed on your phone, which shows it where to send the Bitcoins that are purchased. After that, all you do is feed the ATM the cash and in return receive Bitcoins.
Some residents said they are excited to become involved in the Bitcoin world even though it is new and risky.
"Don't get me wrong, I'm no economics whiz," said Brittani Smith, 28, of Boston, "I don't know if Bitcoins are going to make me any money. But there's a chance, and that's worth throwing down a little money for."
Other residents said although Bitcoins may have a bit of a bad reputation, all that matters is what they utilize them for.
"I know they [Bitcoins] have built up a reputation for criminal activity," said Charles Brennan, 36, of South Boston. "But that's not what they're meant for and that's not how I use them. Bitcoins are just more convenient for business on the web and I'm waiting for more companies to realize it."
James Baccalieri, 25, of East Boston said the anonymous nature of Bitcoins is what makes them more appealing.
"I have nothing to hide, but I don't think any establishment, including the government, should have the right to browse my transactions," he said. "If Bitcoins help me do that, then I'm all for them."