The final buzzer rang out and the crowd roared. The Boston University men's wrestling team gathered in a circle, embracing one another after a 47-0 thrashing of Sacred Heart University. At that moment, the group of men, led by coach Carl Adams and senior co-captains Kevin Innis, Nestor Taffur and Nick Tourville, were one cohesive unit. There was no separating this group of brothers.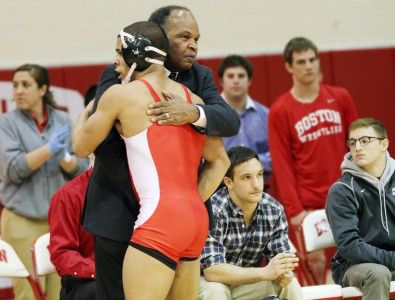 Usually a successful season finale leads to hope for the next year, reason to work even harder in the offseason to improve upon the growth of the year gone by.
But for this group of brothers, Saturday night's contest marked the home finale for the entire BU wrestling program.
Emotions ran wild all night at Case Gymnasium. Many wrestlers' family members littered the stands, bouquets of flowers in hand, ready to face the reality of the end of the wrestling program as announced by the school administration in April.
Student-athletes from other athletic programs flocked into the stands wearing "Save BU Wrestling" shirts and shook the floor of the gymnasium with their support. Innis said he believes the atmosphere, in addition to the team's preparation, led to the blowout over the Pioneers.
"Everyone was where they needed to be," Innis said. "The whole season has been a battle. We've had this kind of weighing over us, the decision to drop us and everything, and it was nice to have the focus come back to the team and the guys who we battle with every day and we bleed with every day, and just going out there and putting it on the line because we care about each other."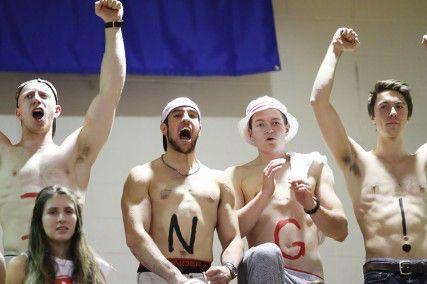 Moments after the final buzzer, Adams hugged his wrestlers and their family members. Each person who stopped Adams' path reached out to him to strike up a conversation with him about the impact he had on his wrestlers. Even after all of his conversations with his students and family members, Adams did not quite know how to feel about the last home match in BU wrestling history.
"I'm going to have to digest it first but if it's going to be the last match, this was the best way to go out," Adams said. "I feel like we wrestled pretty well and everyone won. Normally, you don't shut teams out. Someone kind of squeaks through, so from that standpoint, it was a big positive. Everyone can go home and sleep easy this weekend."
Under the tutelage of Adams, a veteran of 33 seasons for the Terriers, and assistant coach Sean Harrington, who has been by Adams' side since 2011, the wrestling program made large improvements. Many of the wrestlers view the two coaches as family.
"Coach Adams and Coach Harrington are like two dads," Taffur said. "It's awesome to have strong mentors like that around and have people that care about you so much and want you to succeed in life so badly that they are willing to sacrifice whatever time with their family to spend time with us. It means a lot have such great people in our lives."
"I've got a dad in New Jersey and I've got a dad in Boston over here," Innis said. "[Adams] and Coach Harrington have been amazing, and the focus here is not just on winning and the numbers at the end of the season. Even though we've been producing and doing well, so much goes into developing us as men and developing us as people who want to contribute and give back and just be kick-ass people, and that's what we've got.
"We've got 26 guys on this team who are ready to give back and put it on the line for other people and put themselves out there at the drop of a hat."
Despite receiving the news in April that the administration was closing shop on the wrestling program, Adams led the team in a positive direction and refocused the team to achieve goals rather than becoming distracted by the looming end of the program.
"The bottom line is, you have to be positive no matter what," Adams said. "This is not the worst situation in the world. When you have a situation like this, you have to have a positive attitude and you have to portray that to your athletes. And the bottom line is, once you feel the same way or if they are on the same line of thought, then they'll start conducting themselves with a positive attitude in their training."
Both Innis and Taffur said Adams' program has helped the two senior captains grow as men, on and off the mat.
"It's made me into the person that I am today," Taffur said. "It taught me to sharpen my work ethic — develop my character. It's been everything the past five years. It's a big part of who I am today and it's going to play a major part in my life moving forward as well.
"[The program's] been everything," Innis said. "I'm a first-generation college student, just like a bunch of guys on the team are. While leaving the office on my official visit here, I had gone to [the University of Pennsylvania], Lehigh [University], Rutgers [University] and a bunch of other schools on visits and [Adams] was the only coach my mom left saying that she felt comfortable leaving me with."
When the final buzzer ultimately rang and the match was over, Adams did not have much going through his head.
"I've been wrestling for 50 years and I haven't missed a season for 50 years," Adams said. "When I wake up next fall, it's going to be like I'm looking for wrestling practice. It may not be that way, but I don't know what it's going to feel like once it's all said and done yet because I've been doing it for so long."
Although it was on its last leg of life, the wrestling program drew an extremely strong, loud and vocal crowd. Ultimately, Adams said the massive turnout and support for the wrestling program means one thing.
"It shows," Adams said, "that we belong."