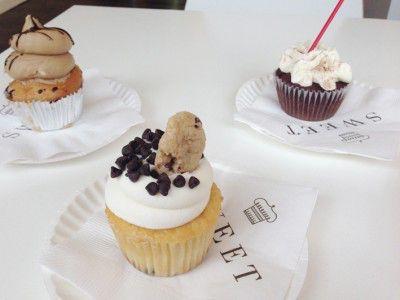 As February comes to an end, it's hard not to look ahead to spring in anticipation. Even if you're sick of the cold, you can still take advantage of what winter has to offer — without getting snow in your shoes. One of the best ways to revive your winter spirit is through the special flavors of the season. Sweet Cupcakes' winter menu offers an array of these unique flavors and might just be the prefect remedy for your winter blues.
Sweet Cupcakes' winter menu, which runs through March 19, includes classic cupcake flavors like Angel Food and Cookies and Cream. More dominant, however, are those based on popular winter treats — like Half-Baked Chocolate Chip Cookie Dough, Chocolate Chip Pancake and Hot Cocoa. But do these seasonal cupcakes evoke memories of cozy winter days, or are these flavors overkill?
The Half-Baked Chocolate Chip Cookie Dough cupcake features an immaculately piped swirl of chocolate chip sprinkled, fluffy buttercream frosting with a miniature chocolate chip cookie nestled within. This dollop sits atop a moist, spongy vanilla bean cake with a half-baked chocolate chip cookie dough bottom.
Unfortunately, the cookie dough that rests at the bottom of the cake (and gives the cupcake its name) is so thin that it goes virtually unnoticed when paired with the more dominant buttercream and vanilla cake. Still, the fact that the half-baked cookie dough can be overlooked is a testament to just how outstanding the rest of the cupcake is. The buttercream frosting is just sweet enough to satisfy your sweet tooth without sending your body into sugar shock, and the mini chocolate chip cookie is not only the perfect decorative addition, but also holds its own as a soft and chewy cookie that tastes fresh out of the oven.
The Chocolate Chip Pancake cupcake is one of the most unique flavors that Sweet Cupcakes offers. It consists of a large mound of "maple infused buttercream" frosting perched atop a chocolate chip buttermilk base.
A buttermilk pancake is inherently not the most flavorful food, but this chocolate chip buttermilk cake is especially bland. It is also dry on the inside and firm on the outside, which makes it difficult to eat, and the payoff is not worth the struggle.
In contrast, the maple buttercream frosting tastes just like the sugary maple syrup you love to pour all over your morning pancakes. This combination of maple and buttercream is a swift one-two punch of sugar. Don't get me wrong, this frosting is mouthwatering, but if you aren't someone with an unyielding sugar addiction you will not be able to withstand more than a few bites.
Of the three, Sweet Cupcakes' Hot Cocoa cupcake remains the most faithful to its inspiration. The cake has an intensely rich dark chocolate flavor with a dark chocolate mousse filling, topped with light, airy whipped cream. The whipped cream is dusted with cocoa powder and topped off with a red stirrer straw.
The dark chocolate cake is as heavenly as a cup of gourmet hot cocoa, and the whipped cream looks and tastes just the whipped cream you would find floating at the top of your mug. The reference is unmistakable, yet ultimately, this is still a cupcake and whipped cream is simply no substitute for frosting.
Your favorite sweet winter treats might not make for the most perfect cupcakes, but no one can say the winter menu at Sweet Cupcakes is dull. These remain some of the most original cupcake flavors around — and for that, it's worth giving them a taste.