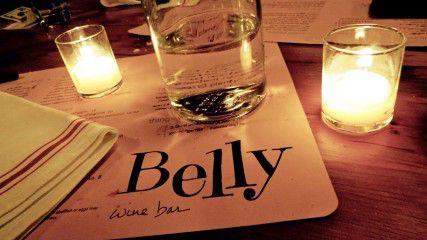 But baby it's cold outside. It is cold outside. I know most of you are sick of it, but it's going to stay that way for some time (probably until mid-April, so take out your tissues). Really, the only way to survive this long, depressing winter is to hibernate like a bear. And if there's one thing we've all learned from our favorite bear, Winnie the Pooh, it's that food will always do you good. So let's go and find something to eat.
Welcome to the Belly Wine Bar. With its wooden ceilings, red brick walls, dimmed lights and interesting art deco tiles, the place looks like a European chalet with a modern twist. There's even a burning fire pit outside — but more on that later. Belly is a wine bar, and you can't say wine without saying charcuterie and cheese too. The menu provides an extended list of both, along with oysters, small plates (all for $6), first courses (around $15), main courses (around $25) and … a cheese fondue.
Cheese fondues are the best fondues. Do you know why some people actually like winter? It's not for the snow or Christmas season, it's for the sake of dipping things into a pot of melted, warm, gooey cheese. Cheese fondues are one of those traditional treats that only make sense when rivers freeze and people slip on ice. It's a winter thing. And Belly Wine Bar is one of the few places in Boston that does it right.
To get a cheese fondue at Belly, you need to call a day in advance and arrange it. The fondue is for four to six people at $14 per head. Show up on time, get seated and, as you wait, bask in the crowded yet cozy atmosphere of the wine bar, lounge music included.
When the fondue arrives, you'll be a bit disappointed. The pot of "coveted Alpine cheese," as described on their website, looks very small. But never fear, Belly knows what it's doing and the pot only looks small. Accompanying the cheese are the fantastic four: slices of green apples, little Brussels sprouts, endive leaves and pieces of focaccia bread. You can use the fondue forks or your fingers, but either way, you're going to get messy.
The green apple and cheese combo creates a sweet and juicy result with a fresh crispness that relieves some of the cheese's heaviness. Apples and cheese go hand in hand; they're a dynamic duo and they know how to satisfy.
With endive there's no way around the bitterness, though they do result in an interesting and pleasant crunchy-watery mixture. But it gets a bit overwhelming, as the leaves are rather huge, with tartness dominating the palate. So, if the endives are last on your plate, just use them as spoons to ladle melted cheese into your mouth. Sometimes cheese just needs to be drunk.
Next up are the Brussels sprouts. Grilled, the sprouts capture the cheese into their little crevices, making every bite an explosion of crunchy delight.
Finally, the classic: bread and cheese. The large fluffy pieces of focaccia just soak up the cheese like a sponge. The hard bread goes soggy in a satisfying way, and the combo simply melts on the tongue. With bread, you can truly taste the sometimes too-subtle alcohol in the cheese fondue. There's a reason why the French only use bread for their cheese fondues: it's simple, decadent and delicious. The best.
That night, Belly offered two desserts: a chèvre gelato ($8) and DIY s'mores ($4). This is where the fire pit comes in. They hand you everything you need and you make your own s'mores — weather permitting, of course. The chèvre gelato, on the other hand, is made for you. Cheese fondues tend to be heavy, so ice cream is always welcome afterwards. You get two scoops of thick goat cheese ice cream with drizzles of honey, citrus zests and sweet rosemary shortbread with fennel seeds. It's a wonderful dessert that soothes the mouth with subtle sweetness and little outburst of acidity.
Belly Wine Bar will make you forget where you are. You're not in Boston. You're near mountains, in the Alps, about to go skiing. It is a little chalet in the middle of Kendall Square where you do not dread the cold but make the most of it. So go out and enjoy now while it's still chilly outside, because one day you'll be complaining that it's too warm outside. And eating a cheese fondue then would simply not make sense.
Belly Wine Bar
One Kendall Square
Cambridge, MA 02139
Open Sunday through Wednesday from 5 to 11 p.m. and Thursday through Saturday from 5 to 12 p.m.