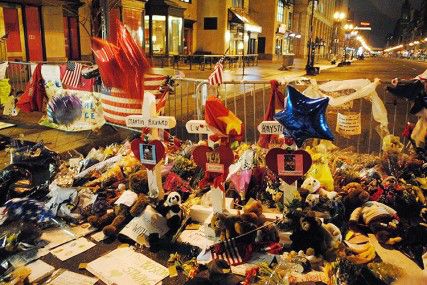 With the 2014 Boston Marathon approaching, the Boston Public Health Commission will be offering free counseling services to those who may be struggling with residual emotions provoked by the anniversary of the 2013 Boston Marathon bombings.
The counseling sessions, which will be operated by trained mental health clinicians, are available at the Boston Public Library on Tuesday, the anniversary of the marathon bombings, and at Our Lady of Victories Church in Copley Square on April 22. Additionally, counseling will be available over the phone via the Mayor's Health Line.
"As the anniversary approaches and as the 2014 Marathon approaches, we know that it will stir a lot of emotions from those that were actually injured or survived the bombings, but also for residents in the city in general," said Nick Martin, BPHC communications director. "We want to be able to be supportive of people from each group."
The BPHC provided more than 600 hours of counseling to thousands of people in the days after the bombings last April, and though it does not anticipate the same demand this year, there is still a need to offer services, Martin said.
"If you're one of the survivors, a year can feel like a drop in the bucket," he said. "There were some really serious physical injuries that people are still having surgeries and still healing physically from. So it can take a while for the emotional and mental health healing process to happen."
The BPHC is also offering community workshops for emergency preparedness, where people can learn about what items they should keep on hand in the event of natural or manmade disasters, Martin said.
"[The workshops are] more focused on general community resiliency in the face of trauma," he said. "Some communities in Boston are affected by trauma on a daily basis that goes under the radar."
BPL Chief of Communications Gina Perille said the library staff is pleased to host counseling services.
"Libraries are community gathering places, and making space available for these community conversations is important," she said. "We see these counseling sessions as an important aspect of all of the special programs taking place in commemoration of the 2013 Boston Marathon."
There are a wide range of emotions that people may experience in the wake of the Boston Marathon bombings anniversary, said David Langer, a Boston University professor of psychology and clinical director at the Center for Anxiety and Related Disorders.
"Some people may be exposed to reminders of the anniversary and see coverage and feel sadness over it but still be functioning fine, and that's a normal response," he said. "Others may experience stronger symptoms due to distressing memories of the bombings, such as nightmares, changes in mood and paranoia."
Langer said everyone will be affected differently, but all should seek counseling if they feel they need it.
"For people [more strongly affected], it would be important to go to seek professional help, to express how you're feeling, talk about the ways it's getting in the way and talk through the emotions with a mental health professional so that things don't feel so scary," he said.
Several residents said the counseling services would bring the community together and allow people to heal in the way they feel most comfortable.
"There was such a sense of solidarity that resulted among the people of Boston," said Joseph Findler, 55, of Back Bay. "The ones who were there — there were hundreds who witnessed the carnage firsthand, or relatives or friends of those affected — they're definitely going to need help."
Laura Montgomery, 34, of Back Bay, said free counseling is a good option for people from socioeconomic statuses who may not normally be able to afford such help.
"There are a lot of people who don't have the access to resources or they don't know about the resources that are out there," she said. "If you were really close to [the bombing] when it happened, you could be a victim of secondary trauma. Even if you didn't get hurt physically … it's something you really need to process over a long period of time."
Adelaide Tingley, 57, of Back Bay, said the counseling emphasizes the strength of Boston's residents as the anniversary approaches.
"It brings back a lot of sad, terrifying moments for the city," she said. "A lot of people are still very affected by what happened, and the one-year anniversary coming up brings up a lot of those feelings, but we've weathered the storm. People are very resilient. It's a very resilient city."