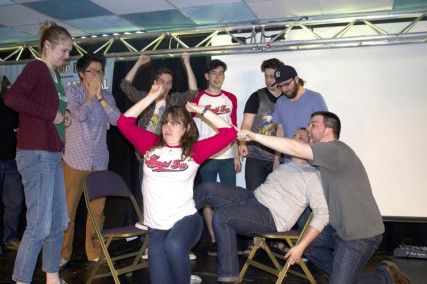 This past weekend, Boston University comedy improvisation group Liquid Fun hosted its 9th annual 24-Hour Comedy Marathon, called Running on Empty, at BU Central. The Comedy Marathon featured a lineup of 10 college groups, two high school troupes and a whole lot of laughter from 7 p.m. Saturday until 7 p.m. Sunday.
"We try to stay up all night and participate in hosting groups from all over New England, including performers from Improv Boston and Improv Asylum," said Ross Huston, member of Liquid Fun and College of Communication junior. "It's wild, wonderful and a ton of fun."
Groups with names such as Stroopwafel, Dead Serious and Cheap Sox each had 30 minutes to perform. One after the other, different troupes graced the stage and brought something new to the audience.
"Improvisation has developed its own unique and enthusiastic culture which I think deserves ample recognition, enjoyment and celebration," said Pablo Milla, a member of Emerson College's Stroopwafel. "I love doing comedy amongst its specific culture of improvisers and comedians who appreciate the craft."
Liquid Fun loves interacting with the other comedy groups in Boston, too.
"Tons of great groups from around Boston come to take part," said Elizabeth Cross, member of Liquid Fun and Sargent College of Health and Rehabilitation Sciences junior. "It's an awesome opportunity to meet and share different forms of comedy with each other, laugh ourselves silly, stay up too late and do it all for the sake of a great cause."
Not only did the Comedy Marathon provide an entire day of entertainment and laughter, it also benefited the Greater Boston Food Bank.
"It's become a Liquid Fun staple," Cross said. "The community looks forward to this event every year and I'm glad we can continue to carry it on."
Courtney Johanson, director of marketing communications at the Greater Boston Food Bank, said fundraisers like these help achieve their objective of distributing enough food to provide at least one meal a day to those in need.
"These donations are important because with every $1 donated, we can provide enough food to provide three nutritious meals to families in need across eastern Massachusetts," she said. "GBFB works very efficiently, so that 92 cents of every dollar donated is put directly toward hunger relief efforts."
Johanson said donations allow the Greater Boston Food Bank to purchase high quality, nutrient-rich food items that support healthy lives and healthy communities. She also said volunteers are very important to support the Greater Boston Food Bank mission.
"There are three ways to get involved: donating money, time or food," she said. "Financial contributions can go a long way and every little bit helps and makes a difference. Volunteers are very important because they save us nearly $1 million. We could not do what we do without our volunteers."
While Liquid Fun shows during the year are usually free, the Comedy Marathon is an exception where the group encourages audience members to donate.
"We have a suggested donation of $5, but we also include opportunities during the show for people to give," Huston said. "One of our favorites is Ammunition Hour, during which performers tell really lame endgame jokes and encourage audience members to buy $1 plastic balls to toss at them. It's bad jokes for a good cause."
Cross said they try to make donating fun by having opportunities for the audience to participate in the show and win prizes throughout the night.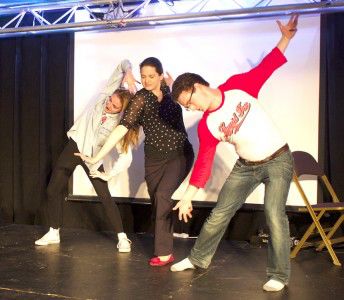 "The longer you stay, the more you pay, the better your prizes! It's all in good fun," she said.
This is the fourth year Liquid Fun has worked with the Greater Boston Food Bank, and members said the charitable aspect makes the Marathon more meaningful.
"It is a wonderful organization that has been nothing but cooperative and kind to us in making the event a reality," Huston said. "It was a wonderful idea of the folks a few years ago to make the Comedy Marathon a charitable event. Before, it was still a cool 24-hour comedy event, but now it means a lot more."
Milla agreed and said, "In this Improv Marathon, artists are given a window of opportunity to do what they love doing most in yet another venue, but for the sole purpose of doing something right," she said.
While the Comedy Marathon is all fun and games, Huston said participants still understand how their jokes and laugher are all for a larger cause.
"Hunger is an issue that is important to tackle because it is an easy one to overlook and take for granted at BU," he said. "Raising awareness is something that makes this event so cool. For people like me who don't go out and give back that often, it provides an opportunity to work with your best friends and other people with similar interests, all while making a difference in the city."
Cross said she believes that hunger is a local issue that BU students and Americans sometimes overlook.
"Hunger is an issue that isn't always at the forefront of our minds and we can sometimes take it for granted as less urgent in a country like America," she said. "Even in the Boston area, food insecurity is deeply felt. No one should have to make the decision between heating and food, or paying for healthcare and dinner."
But even though the members of Liquid Fun understand the seriousness of the issues, they keep things at the Comedy Marathon light-hearted and focus on attendees having a great time.
"My favorite part of the Marathon is just how loopy everyone gets from the [sleep] deprivation," Huston said. "There are some truly incredible moments where, because they're all going through the same sleepy struggle, the groups just bond and share one-of-a-kind experiences."
Cross said the comedy crowd in Boston is great and that all the groups are really supportive of each other.
"I like reuniting with guest performance groups we've had join us in the past, as well as the chance to work with other BU comedy groups," she said. "It's always such a great feeling to be part of such a fun-loving community."