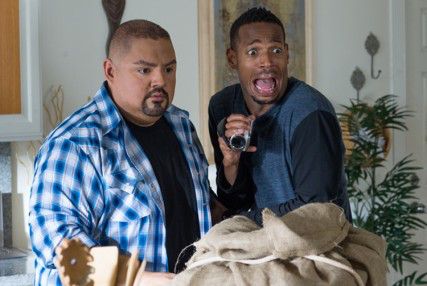 "I think a lot of funny people are really tormented souls. I'm not. I'm just crazy," admitted Marlon Wayans in a loud, boisterous voice at a roundtable discussion at the Ritz-Carlton Hotel on Monday morning. The youngest and arguably most successful sibling of the comedic Wayans family franchise is currently on a multi-city press tour to promote A Haunted House 2, opening in theaters Friday.
The low-budget independent sequel is expected to fare better than the original, which was second in the box office on its opening weekend and grossed about $60 million worldwide — all with a budget of $2.5 million. Wayans, who was not planning on making a sequel, was approached the Tuesday following opening weekend of A Haunted House to create A Haunted House 2.
Aside from Wayans, A Haunted House 2 boasts a monster cast, including Jaime Pressly, Gabriel Iglesias, Affion Crockett, Cedric the Entertainer and Missi Pyle. Shot in the found-footage style in only 25 days, the film was inspired by horror movies The Conjuring, Insidious and The Devil Inside, among others, Wayans said.
A brief question and answer session immediately following a screening of the film on March 23 allowed the audience to give their feedback and pick Wayans' brain. (Chicken wrestling and a sexual affair with a stalker doll seen in the film proved to be quite the topics of conversation.) Wayans confessed that the majority, if not all, of the funniest scenes in the movie were completely improvised.
"Scripts are blueprints. The rest of it comes during filming," he explained. "If it's funny, I'm keeping it."
He also noted the difference in sense of humor between generations: "I want to make movies that make people young," he said. According to Wayans, who also co-wrote both Haunted House films, the desensitization of today's youth makes vulgar and otherwise seemingly inappropriate content funny.
"That's how you know it's going to be a hit — when my mom walks out of the theater," he laughed.
Wayans silly personality and over the top sense of humor was apparent as he poked fun at the audience and cracked jokes while he answered questions. Yet this was only a glimpse of his persona; a more serious side of Marlon was revealed the next morning at a student-populated roundtable.
Sporting jeans, a long sleeve button-up, a skinny tie, a cardigan and a clean-shaven face, the 6-foot-0 actor greeted each student reporter with a handshake or hug, saying, "Look at the little babies" in awe.
At 41 years old, Wayans has established himself as not only a writer and actor, but as a producer, comedian, model and director as well.
"I knew that if I wanted a career in Hollywood, and one that would sustain and one that had consistency over the years, I'd have to be more than an actor," he said. "I'd have to be a writer, and the only way to be a star was to write myself into stardom."
In this respect, being the youngest of his family benefited him in the long run: "Being that little brother I always learned to write," he said, adding that he and his brother Shawn used to read his older brother's scripts when they were kids.
But although Wayans seems to be a jack-of-all-trades, he admits that acting is his true passion.
"I write and develop movies just so I can act," he confessed. "I've had massive dreams, and little by little I try and fulfill each one. I want to brand comedy. I want to make a Disney for comedy."
This isn't as formulaic as it may sound: "Laughter is a hard emotion to evoke," Wayans said. "You don't know what people find funny. Comedy is subjective. I love the challenge."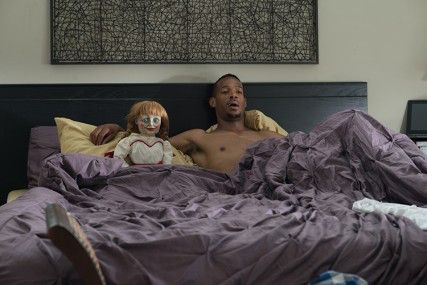 Although many people write-off a lot of Wayans' work — especially his Haunted House movies — as parodies, he argues that they are, instead, in a genre of their own.
"The intent of the movie is not to make fun of those other movies. People call it a parody because it looks like a parody, not understanding really what a parody is," he said. "It's an original movie; it's a horror comedy."
Race is another topic Wayans, who feels strongly about integrating actors of all backgrounds, touched on.
"Comedy has no color," he said. "Everybody should be represented, especially in comedy." The actor admitted to drawing inspiration from comedic trio James Franco, Seth Rogen and Jonah Hill: "I see those guys and I think about how cool it would be to have something like that. My dream cast would consist of Dave Chappelle, Kevin Hart, Chris Rock, Kat Williams, Mike Epps, Cedric [the Entertainer] and my brother Shawn. It'd be an urban ghetto spectacular that transcends color."
Wayans has enjoyed a tremendous amount of success throughout the past few decades and it does not seem to be coming to a halt any time soon. What's next? More comedy, more laughs and possibly more work with Channing Tatum.
"I could do this for the rest of my career," he said. "I don't need a high. The high for me is the audience. The high for me is the laugh. It's the best drug in the world. I don't need to chase it."