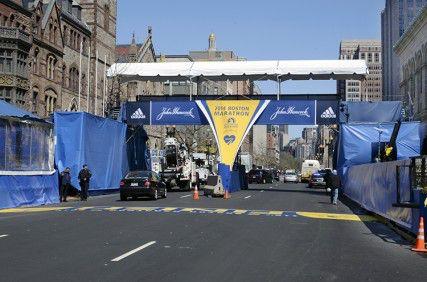 As the 2014 Boston Marathon approaches, the Boston University community is debating whether the alcohol-fueled celebrations typical of the holiday are still appropriate in light of the 2013 Boston Marathon bombings.
"The first thing that I heard about Marathon Monday was about the alcohol," said Corinne Plaisir, a Sargent College of Health & Rehabilitation Sciences sophomore. "It wasn't even about the race. It was more of a Mardis Gras thing than a marathon."
While some students and faculty said it was important to show resilience by celebrating this year's marathon as usual, others said the bombings' impact on BU and Boston demand a sober, respectful observance in honor of those affected by the tragedy.
"This year will be a bit more solemn, but I still think that being enthusiastic and cheering for the race is totally appropriate," said Dr. Tim Naimi, an associate professor in the School of Medicine and School of Public Health. "Making a drunken fool out of yourself is inappropriate."
Naimi, also a physician at Boston Medical Center, conducts extensive research on substance abuse and specializes in binge alcohol consumption.
"Not only is it inappropriate given what happened last year, but a lot of people who work in substance abuse for alcohol decry the fact that a very unhealthy and anti-social behavior, which is drinking to get drunk, is conflated with a sporting event that involves competition and doing our best and being healthy," he said.
Laura Capicotto, a College of Communication sophomore, said those who normally celebrate on Marathon Monday should continue to do so this year.
"By us keeping the tradition alive and doing what we usually do, we are honoring those [affected by the attack] and keeping their memory alive," she said. "Everyone's going to be thinking about it, whether they are partying or not. You can't not think of it."
COM freshman Grace Pearson, who said she will attend the marathon this year, said it is disrespectful to drink excessively during the holiday.
"Students need to be more aware that this is an event that is supposed to be raising money for cancer patients and for lost loved ones, especially those who were lost last year," she said. "In light of that, it's especially important to not be outwardly drunk."
BU Police Chief Thomas Robbins and Dean of Students Kenneth Elmore sent emails to the BU community on Monday and April 10, respectively, reminding students of the Marathon bombings and encouraging them to celebrate responsibly this year.
"Because of the tragic events at last year's race, security at the marathon will be significantly increased," Robbins said in the email. "As a spectator, you should expect to see a significant presence of uniformed and plain clothes police officers along the entire marathon route … Alcohol ordinances and drug laws will be strictly enforced by the police along the course."
Assistant Dean of Students and Director of Residence Life David Zamojski also reminded students in a campus-wide emailWednesday that the Marathon route runs through BU's campus. He encouraged students to celebrate safely, emphasizing the risk of admitting non-residents to BU buildings and failing to lock entrances to their dorms.
BU Community Health Sciences professor William DeJong, who published a paper in February defending the legal drinking age of 21, suggested students should observe Marathon Monday just as they would any other holiday.
"It is especially important that they do so in a manner that honors the runners and also the victims of last year's bombing," he said. "… Excessive drinking is dangerous. That's the reality. And that's true every day of the year."
College of Arts & Sciences senior Alice Crowe said she had no definitive plans for the marathon this year.
"Personally, I would feel a little bit disrespectful being very drunk," she said. "At the same time, sometimes the reaction against tragedy should not be to change the way you behave."