The Ellen Gifford Cat Shelter has existed for over 130 years and it is the first no kill, cageless animal shelter in the United States. Its beginnings are rooted in the animal progressive movements after the founder, for whom the shelter is named, donated $25,000 to get the shelter up and running. Philanthropist Nathan Appleton also contributed by donating the land for the shelter to be built. The shelter originally housed all animals, but they eventually scaled back to cats only around the 1960s.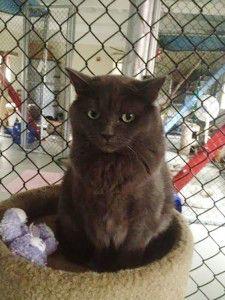 Located in Brighton, the home exterior and its suburban location are just two things that set Gifford apart from other shelters, according the Development Manger Stacey Price. Price also said one important aspect that sets this shelter apart from others is its no-kill policy. In the case of Louise, a cat that had lived in the shelter for seven years, a happy ending is finally possible when the feline found a home about three months ago. A cat in a regular shelter would not have been allowed to stay so long.
"She was kind of giving them googly eyes and it was weird because we had never seen her do that before," Price said. "She let the guy pet her and they heard her story and decided to take her home. Within a week they showed us a picture of the guy lying on the couch with her on his chest. We were just patient and Louise finally picked them."
Price is responsible for fundraising on behalf of the shelter. Her position had not existed until this past August, but was necessary because of the shelter's growth. She has had five years of animal sheltering experience, two prior to Gifford, but has always been an animal lover and felt cats needed more advocacy in Massachusetts.
"I had a career in a corporate environment and I wanted to do something more meaningful and give back to the community, so that's when I made the switch over to nonprofit," Price said. "I wanted to work somewhere I felt a passion for. I was selective with the organizations that I wanted to work at because I wanted them to be no-kill. So when I was looking for a role and Gifford came along, their mission to advocate for the cats struck me plus I thought the homey environment was great."
Because Gifford is a cageless environment, it allows cats to follow their natural instincts of perching, hiding, climbing and so on. The "Brick," as the main adoption building is nicknamed, can house up to 35 cats and is a replica of the building used in the 1800s.
"We tried to make it like home, that's our sense of things," said Debbie Schreiber, shelter director of Gifford. "We want people to come in here and feel like they're meeting a cat and be able to visualize the same behavior in their own home. So that's why the open shelter really works well for that. It helps people have a better understanding of cat. Cats that are in cages makes it hard to tell who they are. Here they get a better sense of it and how they'll work with their family."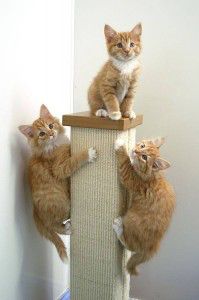 Besides the "Brick," Gifford has other spaces and all together they allow 60 to 70 cats to be housed. One of these places is the feral cat sanctuary that Gifford keeps. Sometimes feral cats are trapped and brought to the shelter, but they are often too old to be tamed. If there isn't a colony caretaker available, Gifford will take these cats in, even if they will never be adopted. Right now the shelter has 13 feral cats, but Price said sometimes these cats can become socialized just from being around the humans who take care of them.
"We had two cats that became so social from us just going in and feeding them that we moved over to the main adoption area and they were eventually adopted out, but that took years," Price said. "But that's why Gifford is so great, because we don't put a timeline on a cat's life."
Besides the cats housed in the shelter, Gifford also has a foster care program that allows for the care of about 30 cats. Including the shelter, the foster program leaves Gifford with about 100 cats at a time. The foster network is a voluntary program that allows caregivers to oversee cats at their homes until they can be permanently adopted.  Foster care becomes critical especially between April and early fall because of "kitten season."
"We get bombarded with either pregnant cats or kittens and our facility can only hold so much and we're no-kill, so we have to find enough outlets somewhere else," Price said. "This way we can continue to take them in and that's were our fosters are critical to the whole process."
Apart from having a foster network, Gifford also depends on numerous volunteers to help run the shelter. As of right now, Gifford has a total of 100 volunteers who, according to Price, worked close to 8,000 hours of service in 2013. Volunteers help with socializing the cats — getting the animals used to being around humans, the volunteers promote the cats at community outreach events on weekends and throughout the summer. Volunteers also clean, feed and take general care of the cats. Rhiannon Marie, sophomore in the College of Arts and Sciences, volunteered last summer during FYSOP and she and her group were responsible for tidying up the shelter.
"The shelter was particularly special because the cats are not enclosed in cages, but instead are free to run around within a fence outside, or have specific homes made for them inside the shelter," Marie said. "When we volunteered, we did a lot of upkeep for the shelter, and it was really fun to garden there because the cats would come play with you. Also, volunteers get to socialize with kittens which is so much fun because we actually get hands-on experience with them. I got to play with these kittens that arrived while we were on site, and even got to name the kittens, which was really kind of them to let us do."
Student volunteers are usually put to the task of socializing the cats, which can also be beneficial for the student in getting their "animal fix" because most college students' circumstances do not allow for pets. According to Price it is important for kittens to be socialized early because it becomes crucial to their chances of finding a home — after six months, the likelihood of socializing goes down.
Schreiber said that is important for volunteers to know the personality of the cats in order to make the adoption process smoother for people.
"We try to spend a significant amount of time talking with people who are adopting the cats to find out what they truly want," Schreiber said. "If you really continue to talk to them, they have a sense about wanting 'a cat that I can pick up' or 'a cat that sits on my lap.' If we can help people articulate what they're looking for, then we're better able to match people with a cat because we know our cats. I think that's what contributed to the success rate of our shelter."
According to Price, last year Gifford took in 310 cats and found families for 247. The rest are still in the shelter, in foster care or in the feral colony. Price said that the cat shelter is looking to improve its operations to "make them more efficient" to take in more cats.
"We're trying to spread the word in the community that we actually exist because many people don't know we're here even though we've been here for over 130 years," Price said. "Our goal this year is to adopt out close to 400 cats."
Out of the 310 cats brought to the shelter last year, 110 of them were kittens. Those kittens, roughly half of which were female, were spayed and neutered by the shelter. If they had remained out on the street and not been spayed, that would have resulted in 1,200 kittens in one year.
 "Then those kittens, because they can have three litters every year — each litter is usually three to four kittens — have babies and it just explodes your population," Price said. "That's why it's so important to advocate spaying and neutering and trapping cats so that they can get spayed and neutered. And that's what we're trying to do here as well as educate the public."