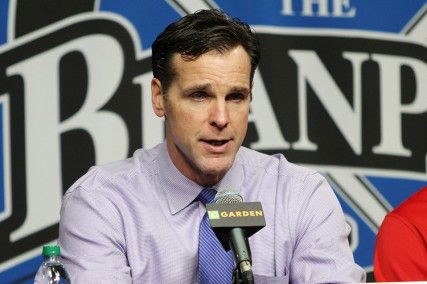 There will be a pair of new faces on the Boston University men's hockey bench next year, and, in keeping with tradition, the additions are of a decidedly scarlet-and-white flavor. Former Terriers Albie O'Connell and Scott Young are returning to Commonwealth Avenue as assistant coach and director of hockey operations, respectively, according to BU head coach David Quinn.
O'Connell, a 1999 BU graduate who was part of four Beanpot-winning teams and two Frozen Four squads, captained the team his senior year. He joins the Terriers after three years on the Harvard University bench, with previous Hockey East pit stops at Northeastern University (three seasons) and Merrimack College (one season).
At Harvard, O'Connell worked primarily with the defense and special teams. Though, in Quinn's words, "as an assistant coach at the collegiate level, you're a coach second." O'Connell has built a reputation as an excellent recruiter, and Quinn expects him to excel in that role at BU.
"He has got his tentacles everywhere," Quinn said. "There are really not a lot of places he hasn't been or if he hasn't been there he knows people who are there. He understands how important it is at our level to recruit. At the end of the day, that's what it is about."
While O'Connell was recruiting for the Huskies, Northeastern secured commitments from former Boston College star Johnny Gaudreau and Providence College goaltender Jon Gillies. Both later de-committed.
"His recruiting speaks for itself," Quinn said. "He is another guy who cares about BU and he is a guy who has had a lot of success recruiting. He is a good coach. I've known Albie a long time and I think if there was a free agent market for coaches and Albie was on it, I think everybody in the country would have wanted to hire him and we are lucky to have him."
Young's role as the director of hockey operations, replacing Pertti Hasanen, involves no coaching and more logistics — video, scheduling practices, the players' academics, etc.
"[Young is] really my right-hand man in a lot of ways," Quinn said.
Much of Young's value comes in his background. Between leaving BU after his sophomore campaign in 1986-87 and leaving his previous gig — coaching St. Mark's in Southborough, his alma mater — to rejoin BU, Young had a successful 17-year NHL career in which he put up 756 points (342 goals, 414 assists). His time as a player is highlighted by two Stanley Cups — 1991 with the Pittsburgh Penguins and 1996 with the Colorado Avalanche — and three Olympic Games.
With the addition of Young, the BU staff now includes a former NHL coach (Quinn), a former NHL scout (associate head coach Steve Greeley) and a former NHL star (Young).
Hasanen and assistant coach Buddy Powers will not return to BU. Hasanen is seeking more coaching opportunities, according to Quinn, while Powers is moving to Ohio and will likely find work there.
"He still wants to work," Quinn said of Powers specifically, though the same could be said of Hasanen. "He is not a guy who is retiring. But this can be a very demanding job. Buddy and I have been friends for a long time. I hired Buddy back in Ann Arbor when I was the head coach of the national program and I loved having him here this year. He just wants a different lifestyle."