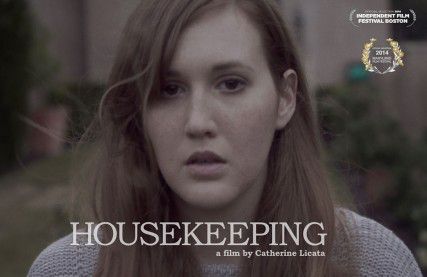 It doesn't quite seem right to call Independent Film Festival Boston (IFFBoston) an "up-and-comer" or an "underdog" in the realm of independent film festivals. Sure, it has to contend with the likes of Sundance and Tribeca in terms of international attention. But since its first run in 2003, the festival has come to attract north of 23,000 attendees each year, making it the top film festival in New England.
This year's iteration closed Wednesday night with Michel Gondry's Mood Indigo, just one in a number of works from the larger names in indie film — if there can be such a thing — like Richard Ayoade and Steven Knight. Yet the festival also lent its screens to a students and other first-time filmmakers. In them, it seems, shines IFFBoston's greatest asset: new voices, speaking through delicate character sketches of infinite variation, reminding audiences why independent film matters.
A good example is in Catherine Licata's short, Housekeeping. The "independent drama" stereotypes are immediately clear: jarring cuts and saturated color. It's incredible how many shades of brown the human eye can perceive and the film manages to include every one of them to capture the expected anxiety.
Initially, the narrative seems mundane. It follows Charlotte, a young woman going about her business with the baby in a SoCal mini-mansion while waiting for Elliott to come home with Thai for dinner. She bakes brownies, takes selfies and does a bit of "mommy and me" yoga to pass the time.
Why the impending sense of doom then? Melody Herron, who plays Charlotte, does an excellent job balancing expressions of tension and ease. Although she appears right at home, she obviously doesn't feel it. When Elliott's wife comes home early from her business trip and pays Charlotte for her time, and it's finally evident why. The charade crumbles and Charlotte walks out into the brewing storm to go home.
The curious thing, though, is that it ends there. Licata turns out the lights once we know just enough, but not too much, about where Charlotte stands emotionally.
"I guess you take what you can get," Elliott's wife remarks about her troubled marriage.
We have to assume that it means so much more to our protagonist, and, for that matter, to the audience.
Asaph Polonsky's Samnang has a similar effect. The film opens as the titular protagonist finishes late night work at a donut shop. Covered in flour and fluorescence, he listens to an ESL lesson on emergency phrases from Khmer. "Our house is on fire," the voice reads nonchalantly. "We need an ambulance quickly." Cue the sinking stomach.
The next day, he meets his new co-worker, the boss's sister, who will help him with the doughnuts. The fact that he's so averse to the idea makes us immediately wonder how long it'll take before they fall in love. After all, Samnang is a widower as well as an immigrant, and he seems to have given up on trying to make friends. He can't stand her penchant for rap music and she keeps burning the donuts. How crazy she must drive him!
It never reaches that point, though. He eventually comes to accept the situation, and that's as much as he does before the credits roll. Like Charlotte, he wants something that only he really knows. All we know is that he's in no position to get it. That's just the way things are. You take what you can get.
The narrative power of both short films makes it frustrating that A is for Alex, one of the longer pieces directed by Alex Orr, seems to get jumbled in its characterizations.
In one plane (the film cuts to Orr producing the movie itself but it's more annoying than inventive), Orr plays Alex, an inventor who is a few months away from becoming a father. We infer that he's unsure about what kind of father he'd make from his cartoonish episodes of sobbing in bed. It's impossible to tell whether or not to take him seriously, given that the film establishes itself early on to be a pretty unconventional comedy. For example, Alex is famous around the neighborhood for building a fleet of robot bees as big as cats.
The rest consists of terribly profane bickering between Alex and his pregnant wife Katie (Orr, his real wife) along with a subplot in which Alex's mom goes to prison for something you're better off not knowing about. The only insight the story grants is that no child deserves parents like this.
At the same time, we never end up knowing for sure. Like its peers at IFFBoston, A is for Alex is more of a snapshot than a story. If nothing else, these films give audiences new perspectives on life, which, as filmmakers of all kinds will tell you, makes movies worth making.