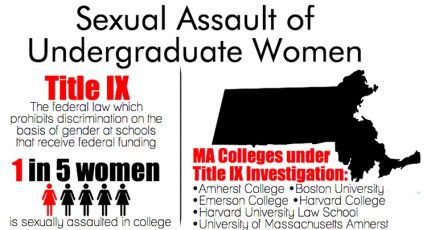 Boston University is one of 55 colleges and universities under investigation for allegedly mishandling sexual violence and harassment complaints on campus, the Department of Education announced Thursday.
The list, released publicly for the first time, includes schools that the DOE's Office for Civil Rights is investigating for allegedly violating Title IX legislation, which prohibits discrimination on the basis of gender at all educational institutions that receive federal financial assistance.
BU spokesman Colin Riley said in a statement that the OCR is investigating a single complaint against the university that was filed in Oct. 2013.
"While we believe the University provided the student with a prompt a equitable resolution of the complaint in full accordance with the requirements of Title IX, we are cooperating fully with the OCR in its investigation and are always open to improving the manner in which we respond to any complaint of sexual misconduct reported to us," he said.
Other schools on the list from Massachusetts include Amherst College, Emerson College, Harvard College, Harvard University Law School, and University of Massachusetts Amherst, according to a Thursday press release from the DOE.
"We are making this list available in an effort to bring more transparency to our enforcement work and to foster better public awareness of civil rights," said Assistant Secretary for Civil Rights Catherine Lhamon in a statement Thursday. "We hope this increased transparency will spur community dialogue about this important issue."
Schools were placed on the comprehensive list due to complaints filed with the OCR and from the office's reviews of schools to ensure they are complying with Title IX, the release stated. When an investigation concludes, the DOE will release upon request whether the OCR will work to address compliance concerns at any given institution, or if the university is cleared of suspected Title IX violations.
Lhamon said a school's appearance on the list does not mean it violated Title IX, but that an investigation is ongoing.
"I also want to make it clear that a college or university's appearance on this list and being the subject of a Title IX investigation in no way indicates at this stage that the college or university is violating or has violated the law," she said in the statement.
The OCR will not provide case-specific details about their investigations, aside from the fact that schools on the list are currently under review, according to the release.
Tori Dutcher-Brown, spokesperson for BU's Center for Gender, Sexuality and Activismsaid awareness of sexual assault needs to be raised continuously and investigations of alleged misconduct should be made transparent.
"Even if we are under investigation because of one complaint made in October, I still believe that's worth it because of that one person that underwent a crime and is now a survivor," she said. "They definitely should be investigating. And if BU is doing what they are supposed to be doing, if they're providing proper survivor care and taking action against perpetrators, then we'll be fine."
Dutcher-Brown, a College of Arts and Sciences freshman, said the OCR's list could prove helpful in reducing sexual violence on college campuses.
"When we don't talk about it, we're not educating people about it," she said. "Then we don't understand what consent means, we don't know how to say no, we don't know how to say yes and we don't know how to get out of a situation where we are not consenting or help a friend out of a situation safely."
The list follows an OCR report released Tuesday providing guidelines to assess the prevalence of sexual assault on American college campuses.
The report and its guidelines, prepared by the White House Task Force to Protect Students from Sexual Assault, are intended to help universities prepare a survey that will assess both the frequency of sexual assaults occurring on campuses and students' attitudes regarding the incidents.
The DOE will consider pursuing legislation to make such a survey mandatory by 2016.