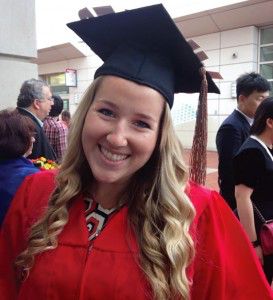 Elisabeth Scotland, a 2014 graduate of Boston University's School of Management, fell down an elevator shaft in Fenway Park Friday night and remains in serious condition at Beth Israel Deaconess Medical Center, according to a statement from her family released through the hospital.
Scotland, 22, of Brigantine, N.J., suffered serious injuries after falling from the fourth floor to the top of an elevator car, which was stopped on the second floor. The Boston Fire Department responded to the scene at about 11:17 pm, BFD spokesman Steve MacDonald said.
"We wanted to get to the woman as quick as possible, so even though we were getting equipment, we put a chair inside the elevator," MacDonald said. "The elevator roof had a hatch to the top of it, so we popped the hatch and a couple firefighters were able to get up onto the roof."
The firefighters began administering medical care and, joined by a paramedic from Boston Emergency Medical Services, lowered Scotland onto a flexible stretcher through the hatch on the roof of the elevator, MacDonald said. Scotland was then transported to BIDMC on a medical stretcher.
Scotland graduated magna cum laude from SMG on Friday.
"Our thoughts and prayers go out to Lizzy and the Scotland family," said BU spokesman Colin Riley.
The family, in their statement, expressed appreciation of the support they and their daughter have received during this difficult time.
"The Scotland family appreciates the many expressions of concern and support that have come from the Boston community and the Red Sox organization," the family said in a statement. "They acknowledge with gratitude the outpouring of love and support from their South Jersey community. They want to thank the Boston Police and Fire Departments for their response to this event. They appreciate as well the exceptional care that Lizzy is receiving at Beth Israel Deaconess Medical Center."
The Boston Police Department and the Executive Office of Public Safety and Security are investigating the cause of the incident, which has not yet been determined.
Due to the ongoing nature of the investigation, BPD was unable to comment.
This article will continue to be updated when more information is released.