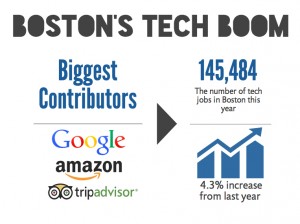 As terms like "kickstarter," "hackathon" and "startup" are entering the city's common vocabulary, Greater Boston was ranked the second-largest tech industry in the nation, trailing only behind Silicon Valley, a Wednesday study by commercial real estate firm Jones Lang LaSalle found.
The firm's latest High-Technology Office Outlook, an annual JLL survey of its real estate research professionals, revealed a 4.3 percent increase from 2013 in the number of tech jobs in Boston, amounting to 145,484 jobs. By contrast, Silicon Valley's market in California grew 5.2 percent, leaving the area with a total of 213,594 tech jobs.
Joanne Bestall, vice president of public relations at JLL's Americas division, said high-tech unemployment is nearing just 1 percent, and growth in the industry will likely continue, though perhaps at a declining rate.
"We anticipate the pace of hiring slowing, but more because firms will find it difficult to hire at a pace that allows them to keep up with growth. Still, the young workforce is mobile," Bestall said. "The hope is that the terrific schools that produce talented graduates each year, along with an increased population growth, will enable firms to keep growing even if competition for talent remains high."
Nationally, high-tech employment has reached a new peak, with 3.3 million jobs in the tech sector across the country, according to the study. The report classified Boston as a market in an early stage of growth, and it listed the city as fifth in yearly growth in an employment ranking of the top 10 tech markets.
Google, Amazon and TripAdvisor contributed the most to Boston's high-tech growth in the past year, though smaller companies such as Turbine, an online video game developer, and Swipely, a direct marketing and software firm, were also some of the city's highest employers, Bestall said.
Boston's success in technological development is partly due to a combination of education and entrepreneurialism, said Michael Goodman, an associate professor of public policy at the University of Massachusetts Dartmouth and director of the UMass Dartmouth Center for Policy Analysis.
"It's a fairly simple formula that's admittedly difficult to replicate," Goodman said. "We have a very highly educated population … people who have relatively high degrees of formal education attainment, and we have a critical mass of world-class institutions and the infrastructure required for innovation."
At the core of that infrastructure, Goodman said, is research and development in institutions such as universities and businesses, as well as in fields ranging from information technology to biomedical and life sciences.
"People come here to work in our higher educational institutions and our teaching hospitals and our leading technology firms," he said. "And what you end up with is a cluster of these complementary resources."
Goodman said what may set Boston apart from other hubs of academia is the city's capitalistic sense of adventure.
"It's clear that at the heart of that research and development base are science, technology, engineering and math," he said. "But in addition, you need well educated and creative people. You need people who are willing to take risks and invest capital in these enterprises, and you need people who are entrepreneurially brave enough and managerially skilled enough to take great ideas and develop organizations that are going to survive."
Because Boston is riddled with institutions focused on high-tech developments, students in the area who are seeking to enter the field have an advantage in the city that they should seize, Goodman said.
"The presence of these firms and the proximity that students have to them opens up all kinds of opportunities to gain experience through internships and summer jobs," he said. "You need to pursue opportunities to demonstrate that you can apply that skill and gain experiences that are really highly valued by employers."
Barton Lipman, a department chair of economics in the College of Arts and Sciences, also said the strong tech industry in Boston bodes well for students pursuing jobs in that field.
"People find a lot of jobs through informal connections," he said. "You know somebody who knows somebody who knows somebody who's hiring. The more there is that's going on locally, the more likely there is to be such a chain of connections like that to get you into a good job."
Chao Wu, a freshman in CAS studying biology, said Boston's growing tech industry seems like good news, though it is important to consider the potential for increased job competition.
"In a sense, it's a double-edged sword," he said. "You are in a good city and a place where science and technology run rampant, and being in a city where education gets you to understand the science is very good, but on the other hand, it also means that there are other people just as qualified as you."
College of Engineering freshman Reet Chowdhary said there is an abundance of startup tech companies in Boston seeking to expand, which leaves him confident that tech companies will be eager to hire new graduates.
"I'm sure it won't be difficult, especially from a reputable university and getting good grades – as long as you're doing well, I'm sure startup companies won't hesitate to hire you," he said. "There's a lot of opportunity here as far as that's concerned."