There are student organizations on Boston University's campus for nearly everyone's passion, from recreational activities and academic clubs to cultural organizations and service groups. Don't see one of your interests being represented among the 450 official clubs? Follow any of the 15 clubs that were approved in spring 2014 by example and submit a new student group for approval. You can also look out for some of these new additions at SPLASH, BU's large-scale activities fair held at the beginning of each fall semester for students to join clubs and organizations.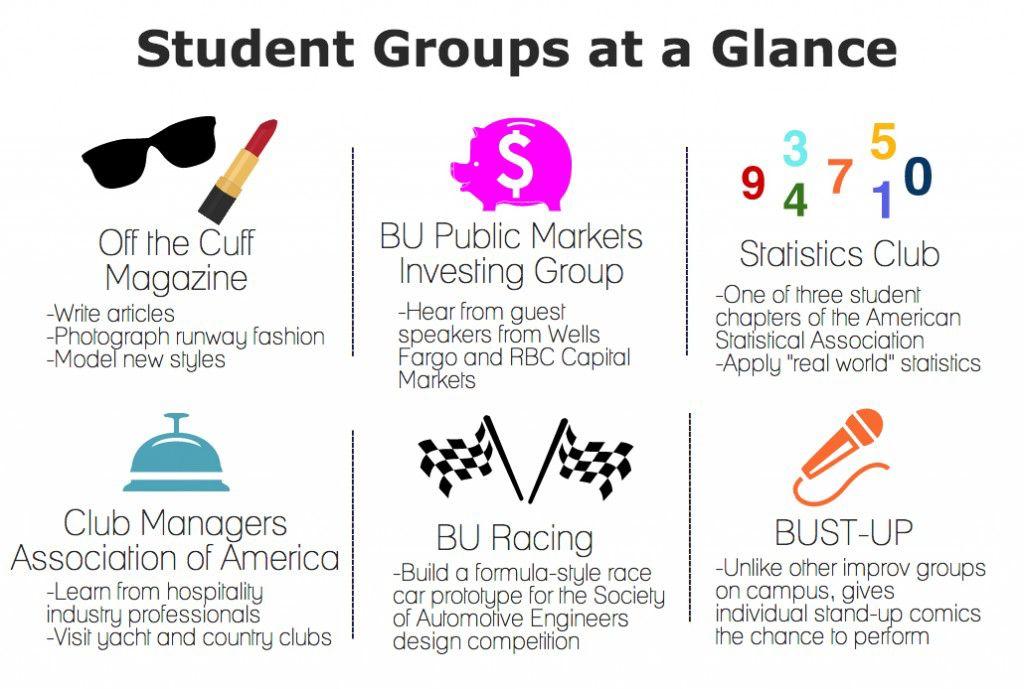 BUST-UP
Slow Children At Play, Sons of Liberty and Liquid Fun are some of the existing homes on campus for student comedians to perform in a group setting, but since BUST-UP's approval in February, those looking for the chance to perform solo stand-up comedy now have a place on campus to do so.
"Actually, a lot of our members are involved in other comedy groups on campus," said BUST-UP president and College of Communication senior Ross Huston.
BUST-UP, short for Boston University Stand-up, was inspired by an existing stand-up comedy event held every other Monday at BU Central. Flat Waffle Comedy Hour was three years in the running when Huston decided it was time for BU to have an official stand-up comedy club. Huston said the group is open to anyone "interested and curious about comedy," and he welcomes students to join whether they enjoy performing stand-up or just watching it.
For more information about BUST-UP, contact Ross Huston at [email protected].
Off The Cuff Magazine
Fashion enthusiasts can look to Off The Cuff Magazine to pursue fashion design, styling, modeling and more with seasonal issues and fashion-related events. President and Editor-in-Chief Vince Calvi, a COM junior, created the magazine to reflect a combination of fashion, art and diversity, encouraging members to show off their many skills and talents.
While Boston University's Fashion and Retail Association focuses on networking opportunities and fashion shows for students interested in the fashion industry, Off The Cuff offers editorial and marketing opportunities on both digital and print platforms. Calvi and his team also run a "BU Best Dressed" program, featuring fashion-forward BU students and what they're wearing.
To learn more about Off the Cuff, contact [email protected].
Boston University Racing
College of Engineering junior Joshua Byington and ENG sophomore James Wang are working on launching a team of students to design and build a formula-style racecar prototype for the Society of Automotive Engineers design competition. Geared toward engineering students but open to everyone interested in the automobile industry, Byington said Boston University Racing has already generated a lot of interest.
While the only tangible prizes from SAE design competitions are pride and bragging rights, Byington said the real prize awarded is the chance for potential employers to see something members have worked with hands-on in the industry. Members will use teamwork and problem solving skills to build BU's first car, which Byington believes will take a big allowance and at least two years to build.
Massachusetts Institute of Technology and Tufts University participate in SAE competitions already, and there are multiple competitions each year both nationally and internationally. Boston University Racing won't be at SPLASH this year, but you can find out more by contacting [email protected].
Club Managers Association of America
Representing the "behind-the-scenes" element of the hospitality industry, the Club Managers Association of America is a club for students interested in the club management profession.
"Think country clubs and yacht clubs," said CMAA president and School of Hospitality junior Owen Huzar.
CMAA vice president and SHA sophomore Maura Feltault said the group plans to bring in speakers from the industry as well as organize site visits.
CMAA is for anyone with an interest in hospitality. The club won't be at SPLASH, but they will have a booth at SHA's club fair on Sept. 10.
For more information, visit their website or check out the group's Facebook page.
Professional groups on the rise
Boston University Racing and CMAA aren't the only groups dedicated to helping students gain industry experience before graduation. More academically driven clubs appear to be gaining interest as students prepare for the post-grad job hunt.
Co-CEOs Zach Kramer, a School of Management sophomore, and Gabriella Bastidas, an SMG junior, said they believe BU Public Markets Investing Group will give students interested in marketing "skills they cannot learn in the classroom."
Kramer and Bastidas already have speakers lined-up for this year, including RBC Capital Markets Chief U.S. Market Strategist Jonathan Golub and Wells Fargo Senior Equity Strategist Gina Martin Adams.
Similarly, there is the Boston University Statistics Club, one of three pilot student chapters of the American Statistical Association to connect students interested in statistics and provide them with career resources and networking opportunities.
College of Arts and Sciences senior Muhammad Azeem said the club allows students to have hands-on exposure and the chance to work on "real-world" problems outside the classroom.
BU Public Markets Investing Group won't be at SPLASH this year, but check out their Facebook page or contact [email protected] for more information.
The Boston University Statistics Club won't be at SPLASH this year, but learn more by visiting their website, heading over to their Facebook page or e-mailing [email protected]
So you want to organize a new group?
The Student Activities Office approves new groups twice a year. At the beginning of each fall and spring semester, students are encouraged to apply on the SAO website, as long as they meet the minimum requirements outlined by SAO.
Each new group requires four club officers to run the group. Prior to applying, one needs the names and BU e-mails of the president, vice president, secretary and treasurer. Student groups also require a faculty advisor, club description and club constitution, or a list of rules and policies that are used to run the group. Most importantly, the club has to generate student interest. The application requires a roster of at least 10 additional club members. When a group has submitted all the required materials, the approval process usually takes about three weeks.
Be sure to check out some of these new clubs and many more this Saturday, Sept. 6 at noon on Nickerson Field.