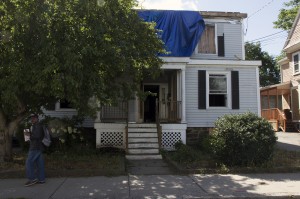 When Nick Dragonetti moved into his Allston apartment at the beginning of September, he saw first-hand the issues that several Boston University students encounter when they live off campus.
"There are a lot of things that we were blindsided by when we came here the first day," he said. "For the first month, it'll be tough just trying to get everything fixed."
Dragonetti, a senior in the Sargent College of Health and Rehabilitation Sciences, said though his residence seems up to code, it does have significant issues.
"There are some holes in the walls, things need to be repainted, some doors need to be fixed," he said. "They've said they would come and fix it either this week or next week. And hopefully they do."
Following a 2014 Boston Globe Spotlight Team series on problems with crowded, unsafe and sometimes illegal off-campus apartments in Boston, titled "Shadow Campus," the city vowed to crack down on unruly landlords and violations of student housing policy.
On Aug. 20, the Boston City Council voted to require colleges and universities in the city, including BU, to share lists of the addresses of all students living off campus in an effort to enforce occupancy restrictions. The city's University Accountability Ordinance required universities to provide only the number of students living both on and off campus in each ZIP code. The amendment strengthens the ordinance by calling for the addresses and unit numbers of all student apartments, with a distinction between undergraduate and graduate students, before each semester. Students' names, however, will not be included.
BU spokesman Colin Riley said this will be the second year the university provides such a list, though he cautioned that addresses with more than four residents may actually be in compliance with the occupancy restriction.
"Many of those apartment buildings are multi-family homes, so providing those addresses does not indicate that there is any violation of the city ordinance," he said.
Riley also said it is important not to conflate violations of the ordinance with an overcrowding problem.
"I don't know if it's overcrowding," he said. "If you have five bedrooms and five people live in there, it doesn't sound like it's overcrowding."
Riley said apartment landlords are responsible for providing safe and secure housing, though he noted BU can and does play a role.
"The university cares very much for its students whether they live on campus or off campus," he said. "We want to ensure that they know their rights and responsibilities as tenants and that information is provided to them and made available by the university through an off-campus fair."
BU's next off-campus housing fair will be held February 2015, with more details to come in December or early January, according to BU's off-campus website.
The address requirement for colleges and universities comes at a time when off-campus housing safety is being addressed in Boston's courts as well. On Aug. 19, one day before the City Council's vote, the family of BU student Binland Lee, who died in an Allston apartment fire in 2013, filed a lawsuit against the property's landlord and real estate agency for allegedly renting an apartment that did not comply with safety regulations.
Lee's residence at 87 Linden St. had been previously altered without permission from the City of Boston, according to the lawsuit. Three bedrooms had been added, making a total of seven, and the apartment had just one means of exit, the lawsuit said. City law requires residences to have at least two exits and only four undergraduate students in one unit.
The lawsuit also alleges that smoke detectors in the apartment lacked a city permit and were not interconnected as required by law. By the time of the fire, which originated in a common area on the street level, it reached and activated fire alarms on the third floor where Lee was sleeping. The smoke made escape impossible, the lawsuit alleges.
Elbert Kim, Lee's boyfriend at the time, called Lee's apartment one of the nicer off-campus residences he has seen.
"Allston is pretty much where everyone goes to find cheap rent," said Kim, a 2013 College of Arts and Sciences graduate. "It's cheap for a reason – the housing is pretty shabby and, as we know now, extremely unsafe."
Kim said he hopes the lawsuit can serve a greater purpose for students who might otherwise be forced into situations such as Lee's.
"This case can bring awareness and help make sure that nobody else will have to live in a death trap, which will help do a lot of good," he said.
School of Management senior Lucas Durrett, who has lived off campus since his sophomore year, said the key to a smooth renting experience is to know how to find a reputable landlord.