Much like its mythological namesake, the Muse is the creative force at The Daily Free Press that celebrates all things arts and culture – specifically film and television, lifestyle, food and music. To welcome a new semester of Muse, some of the subeditors have selected student groups and events on campus representative of their sections to look out for this fall.
Move your body with BU dance groups
by Caroline Sun/Lifestyle Editor
Enjoying the culture that BU has to offer doesn't just mean getting good seats at the Tsai Performance Center.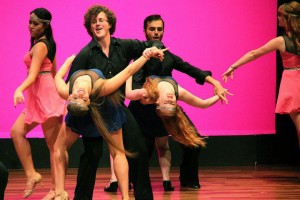 Getting up and getting active in a couple of BU's dance clubs is a great way to be a part of the lifestyle scene.
The BU Ballroom Dance Club and Team displays their passion and originality by offering a variety of ballroom styles, from International Latin to American Smooth. Every Tuesday and Thursday in the George Sherman Union Alley, professional coaches advise the club on how to better their skills and talents.
Throughout the year, the team competes in the Greater Boston area and beyond. The group also participates in Montage, an annual show hosted by BUBDC that highlights the BUBDC among other performing arts groups on campus.
If you're still not convinced, the group is hosting free tango and cha-cha lessons in the GSU Alley on Tuesday and Thursday at 5 p.m.
For those more interested in marching to the beat of their own drum than trying to keep up with a partner, look no further than hip-hop dance troupe Fusion.
Tying fluid moves with lyrical dance, the members of "Fusion" redefine the definition of hip-hop. For avid hip-hop dancers, this team's dance style is more versatile and open than typical street dancing.
Fusion has also made its mark beyond Commonwealth Avenue. The group hosts an annual competition for dance groups all along the east coast called "Elements," judged by a panel of noted choreographers.
Fusion will be holding tryouts for potential members on Sept. 14 at 1 p.m. in the Student Activities Office dance studio on the third floor.
Options for film enthusiasts
by Joe Incollingo/Film and Television Editor
When bingeing Netflix alone in bed gets a little too lonely, don't panic. There are plenty of reasons for film and television fans to get out and sit down in front of a different screen.
Throughout the semester, the College of Communication's Film and Television Department hosts its free "Cinematheque" screening series on Friday nights at 7 p.m. in COM 101. Cinematheque not only screens films and TV episodes, but also invites prominent cast and crewmembers, as well.
"The idea is not just to show a film, but to have one of the creatives there," said Paul Schneider, chairman of the department. "Then afterwards, which is possibly the most interesting part, [they can] answer questions about how the piece was created."
Previous guests – often BU alums – include "Life of Pi" production designer David Gropman and "Tiny Furniture" writer-director Lena Dunham, two years before her HBO series hit "Girls."
For those who would rather be behind the camera, the BU Film Society offers an outlet. The group serves both as a meeting place for film fans to screen and discuss movies as well as a place for budding auteurs to put their ideas on camera.
"If anyone has an idea for a film, or just wants to spend a weekend or a day helping out with a film being made, then BUFS can deliver," said President Mathew Fiegleman, a School of Management and COM senior.
Besides, you have to go outside at some point, don't you?
BU Vegetarian Society: Cooking up community with a dash of activism
by Brooke Jackson-Glidden/Food Editor
Kimberly Barzola, a sophomore in the College of Arts and Sciences, wasn't planning on joining the BU Vegetarian Society when she went to SPLASH last year. It's a good thing she went to that first meeting — she's now the president.
"I thought, 'Oh, well, everyone there [is] already a vegetarian. They're only there to shut people out…'" she said. "When I passed by the stand [at SPLASH], there were just really inviting people there. So I said 'OK, I'll check out the first meeting.'"
At the meeting, she said she discovered the BU Vegetarian Society was far from exclusionary. In fact, it became a place for her to safely discuss her diet and lifestyle.
The BU Vegetarian Society, one of BU's popular sustainability organizations, comes back in season at 6 p.m. Thursday, with a potluck dinner in the Center for Gender, Sexuality and Activism.
This year, however, "BU Veg" will go back to its activist roots while keeping its supportive atmosphere alive.
To create more "quantifiable change," BU Veg has taken steps to develop more activist avenues for the club's members, as it did in years past.
Barzola plans to collaborate with The Humane League, a local animal rights organization, to rekindle their relationship for events this year. The group also created a new position for their executive board – the activism coordinator – to promote a return to animal rights advocacy as a larger objective of BUVS.
"We want that to be a strong part of BU Veg," Barzola said. "[We want to] work with local organizations, spread literature about the abuse of animals … share vegan outreach throughout the schools, educate people on the vegan and vegetarian diet, what it can do — baby steps, transitions, a place where that conversation can happen. We don't want to lose that community aspect."