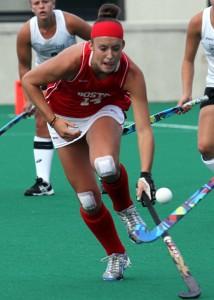 Dealing with another top-heavy non-conference schedule, the Boston University field hockey team will travel to Durham, New Hampshire, Friday to battle with No. 12 Stanford University.
The Cardinal (3-0) have started off strong this season, winning their first three games of the season versus Liberty University, the University of Delaware and the University of Maine.
Last season, the Cardinal cruised to a 16-5 record during the regular season and a top-10 national ranking. Their momentum persisted through the early rounds of the NorPac Conference Tournament, outscoring opponents 10-1, on its way to a berth in the conference title game. However, Stanford hit a roadblock in Liberty (1-1), giving up a stunning late goal in the 67th minute that ended the Cardinal's season.
Returning with chips on their shoulder from that disappointing loss last season are junior Lauren Becker and senior Alex McCawley. Through the Cardinal's first three matchups this season, these two have combined for 11 of their team's 20 total points as well as five of their squad's nine goals.
In order to stifle the hot Cardinal attack, BU coach Sally Starr said her team will need to play solid defense all across the field.
"We're just trying to improve on our defense from the first two games," Starr said. "The biggest thing for us is to put pressure on the ball. We need to work hard in order to not be eliminated. And most of all, we need to play good team defense at the midfield and in the circle."
Stanford's greatest weapon lies at the back with goalkeeper Dulcie Davies. The London native returns for her junior campaign following a sophomore season in which she recorded an NCAA-best 10 shutouts in 21 games.
So far this year, Davies has picked up where she left off, only letting up one goal and boasting a .938 save percentage. This premier cage-protector has certainly been a point of emphasis for Starr and her coaching staff all week in practice.
"Once again, the offense will also come down to good individual work but good teamwork too," Starr said. "We have to display outstanding attacking skills as well as good passing. We need to get in good scoring spots and get some numerical imbalances up at the front in our favor by working hard off the ball."
To combat the Cardinal's formidable goalkeeper, the Terriers will continue to rely on the speed and quickness of junior midfielder Sofi Laurito and the length and positioning of sophomore forward Amanda Cassera. Laurito singlehandedly snatched the victory for BU Sunday on the road at Ohio University when she scored two unanswered goals, including the game-winner in the 63rd minute of the 4-3 affair.
Meanwhile, although Cassera has only found the back of the net once thus far, she has produced no shortage of quality opportunities for herself and her teammates. She is tied for the team lead with three shots on goal and remains a focal point of the Terrier attack.
Marking McCawley and Becker on the defensive end will be junior fullback Rachel Coll and freshman fullback Allie Renzi. Renzi has started the first two games at right back for the Terriers, making an immediate impact in lieu of the departed Nell Burdis.
Coll continues to make her presence felt on defense in front of stout senior goalkeeper Valentina Cerda Eimbcke. The Greymouth, New Zealand, native has also pushed up on offense early on this season, notching BU's only assist of the season in a loss to No. 14 Northwestern University.
With a multitude of athleticism at both ends of the field, the Cardinal certainly present a test for the Terriers. However, coming off of a huge road win and a competitive game against a tough Big Ten team in the Wildcats (2-1), BU is confident they can play to Stanford's level.
"It was a good weekend for us," Starr said. "We haven't been able to play yet with a full healthy lineup, so they've shown great adaptability. We competed well against Northwestern in a back-and-forth game. The same story happened against Ohio, and we found a way to win late. I think they've shown a real resilience so far and they'll continue to compete."