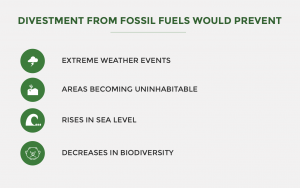 More than 240 Boston University faculty have called on BU President Robert Brown to disinvest from the fossil fuel industry and say that a shift to a sustainable stock portfolio is not only necessary to combat climate change, but will also leave the university's profits virtually untouched.
A delegation of 245 professors from nearly all of BU's schools and departments – the largest number of faculty to demand fossil fuel divestment at any university – submitted their petition to Brown by hand on Tuesday alongside members of DivestBU, a student organization that has advocated for divestment for two years, according to a Tuesday press release.
"One of the most difficult forces preventing us from doing something about climate change is the fossil fuel interest," said Ed Loechler, a professor of biology who co-founded the faculty movement. "Their profit margin depends upon continuing to promote the burning of fossil fuels at the current rate. And so they're a very powerful force, and they intend to try to push that agenda. The Earth cannot endure that and still survive at any kind of recognizable form as it is."
The call to action provides research on the ongoing and future threats of climate change and argues that Earth is facing an increased scarcity of food and fresh water, extreme weather events, a rise in sea level, a loss of biodiversity, uninhabitable land areas and mass human migration, conflict and violence, according to the release.
"Because it is unlikely that fossil fuel interests, the major source of this crisis, will stop of their own accord their unrelenting drive to burn these fuels at current rates, we must find strategies to induce them to stop," the faculty's letter stated. "…Boston University has shown a real commitment to climate change concerns through its sustainability and energy efficiency programs. The time has come again to take another clear leadership role – this time taking action that will accelerate solutions to the climate change crisis."
When students and faculty presented their letter to Brown, he met personally with the climate change activists and discussed how his administration would handle the matter moving forward.
"During that conversation, he assured them that he would bring the petition to the Board committee charged with considering such requests: the Advisory Committee on Socially Responsible Investing," said BU spokesman Colin Riley.
The university has divested only twice in its history, once from the South African apartheid in 1979 and again from the Darfur Genocide in the early 2000s.
The petition stated careful divestment from fossil fuels will not significantly affect BU's finances and argues that as "true costs of carbon dioxide emissions" do not yet factor into fossil fuel company stock prices, these investments are becoming increasingly risky.
"Divestment is important as it takes a stance on a very powerful issue that is otherwise in line with BU's sustainable mission," said Danielle Elefritz, the undergraduate Student Government's director of environmental affairs, in an email. "In doing so, BU would be one of the first large college campuses to completely divest, which would further encourage others to do the same. While one university may not make a dent, a nationwide movement may."
Loechler said that at the core of the faculty's push for divestment lies a concern for students' futures, a concern shared by DivestBU member Claire Richer.
"The consumer can only do so much," Richer, a College of Arts and Sciences senior, said. "There needs to be a top down effort as well. This is important, and it is changing the way our planet works."
Loechler and co-founder of the faculty organization Nathan Phillips, professor of earth and environment, said they were pleasantly surprised by the opportunity to meet with Brown.
"He didn't make any promises, and we weren't expecting him to make any promises," Phillips said. "He heard us out, and that speaks to the leadership we have at the university, that he listens to faculty and he hears us."
Jaime Bennis and Stephanie Pagones contributed to the reporting of this article.