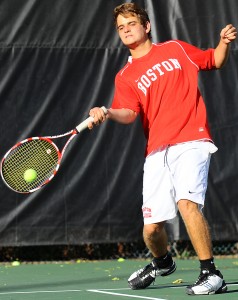 Looking to build off impressive debut seasons in the Patriot League conference, both the Boston University men's tennis team and women's golf team will open their respective seasons this weekend with tournaments in Rhode Island and New Hampshire.
The men's tennis team will kick off its 2014-15 campaign Friday by participating in the three-day Brown Invitational in Providence, Rhode Island. Last season, the Terriers put on a solid showing at the event with five players earning at least two singles victories apiece.
Sophomore Jay Leelavanich was particularly impressive, winning the Aqua Draw title by defeating Tufts University's Jake Lazarus, Marist College's Joe Motta (6-3, 6-4) and Merrimack College's Nick Majewski (6-1, 6-4).
This season, BU will once again attempt to make its first conference final appearance since 1999, as the Terriers made it all the way to the Patriot League Tournament semifinals before dropping a 4-3 decision against the United States Naval Academy on April 26.
The Terriers, who finished last season with a 9-10 record, will miss the presence of 2013-14 co-captain Chanon Varapongsittikul, who graduated in May. The Bangkok, Thailand, native earned All-Conference Second Team honors after capturing both 10 singles wins and 12 doubles victories alongside fellow classmate Jesse Frieder.
Despite the loss of Varapongsittikul, the Terriers still boast an impressive roster that includes sophomore Lucas Bombonatti, who boasted a 12-4 singles record last season, and Leelavanich, who compiled both a 15-6 singles record and a 10-7 doubles line with sophomore Jake De Vries.
Just a year removed from finishing second in the Patriot League Championship, women's golf will look to continue to assert itself in the conference when it opens its season Saturday at the Dartmouth Invitational in Hanover, New Hampshire.
The team achieved great success last season at the tournament, shooting under 300 as a team for the first time in program history on Sept. 14, 2013 en route to a second-place finish.
Terriers head coach Bruce Chalas will see a veteran squad return for this season, as BU only lost one player to graduation last season and will welcome back nine letter winners.
BU will be aided by the return of sophomore Adela Cejnarova, who earned Patriot League Rookie of the Year honors last season after tying for fifth at the Patriot League Championship with a three-round score of 235 (79-80-76). The Prague, Czech Republic, product was named Patriot League Golfer of the Month for March after earning back-to-back top-30 finishes in two tournaments that month.
The Terriers will also add a new player this season with the arrival of freshman Phyllis Tang, who was ranked as high as eighth in the International Junior Golf Tour's 2013-14 Girls' rankings last season.
With four captains leading the way in Cejnarova, junior Emily Tillo and seniors Flor Canedo and Kristyna Pavlickova, the Terriers have their eyes set on another successful season against Patriot League competition in 2014-15.