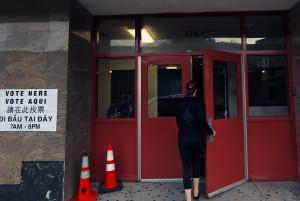 Even though several state level positions were up for grabs, voter turnout in the Massachusetts general primary election was sluggish Tuesday.
Approximately 688,109 people voted in Tuesday's election with about 98.6 percent of the precincts reported at press time, which featured Democratic and Republican primaries for governor, lieutenant governor, attorney general and treasurer, among others, according to the Associated Press.
This was an increase from the approximately 487,000 residents who voted in the 2010 primary, but a decrease from the approximately 900,000 who voted in the 2006 primary. As of October 2012, there were 4.3 million registered voters in Massachusetts, according to the office of Massachusetts Secretary of State William Galvin.
In 2006, current Massachusetts Gov. Deval Patrick was running for his first term in the Democratic primary against Lt. Gov. Kerry Healey. The election, which ultimately elected the first African-American governor of the Commonwealth, brought an influx of voters to the polls. However, in 2010, when Patrick ran for reelection against Republican Charlie Baker, voter turnout decreased.
Within the city of Boston, 63,386 of the city's 380,202 registered voters took part in Tuesday's election, amounting to a 16.67 percent participation rate, the Boston Election Department website reported.
Brian McNiff, a spokesman for Galvin, said statewide voter turnout was projected to stay relatively the same as compared to the gubernatorial primary of 2010.
"Nothing seems to have changed from the prediction Secretary Galvin made of 15 to 20 percent," he said. "That's about 580,000 votes from the Democrats and between 165,000 and 170,000 from the Republicans. Compared to the past, voting turnout is a little higher than four years ago [in 2010], but much lower than eight years ago [in 2006] when there was last an open gubernatorial seat."
Several professors said while they expected low voter turnout, they are hopeful that more voters will come to the polls for the general election in November.
John Carroll, a professor of mass communication at Boston University, said people should take the opportunity to vote in state and local elections because of the direct impact those elections can have on communities.
"More people believe they have a stake in a presidential election than in state or local elections, which is actually the opposite of the reality of the situation," he said. "What happens in the local level will be much more significant…but the public doesn't necessarily see it that way."
John Berg, a professor of political science at Suffolk University, said voters may feel their voices are not a valuable asset to the election because of the nature of the political parties.
"[If] the reports have all been that on the Republican side, Baker's got it, and on the Democratic side, [Martha] Coakley's probably got it, people hear that and think they don't need them or they won't do any good."
Berg said the presence of a strong Republican candidate such as Charlie Baker in a state that lies on several fundamental liberal foundations could introduce more competition to the gubernatorial race.
"The interesting thing for this campaign is that we haven't had a Republican candidate with any potential to win in a long time [in] a statewide office in Massachusetts," he said. "Baker could have the potential to win, so that will be pretty interesting."
Several residents said they regard voting as a way to stay actively involved in governmental affairs.
Susan Osborn, 50, of Beacon Hill, said she participated in Tuesday's election to fulfill her civic duty and vote for the women taking the forefront in Massachusetts politics.
"I voted for Martha Coakley for governor because of how much good exposure she got when she ran for Senate up against Scott Brown," she said. "I voted for Maura Healey for attorney general because she has a strong legal background and she has worked in the attorney general's office. It seems like a natural stepping-stone for her. It's about time for a woman in any office position."
Howard Othmer, 87, of Beacon Hill, said he would have liked to see more news and information about the candidates and the primary election on television.
"Because the information isn't really there, I have trouble remembering who I voted for or what the candidates stand for," he said. "I ended up voting for [Steven] Grossman for governor and Tolman for attorney general because he was against gun lobbying. I try to vote in any election because when I was in the army, I didn't get the chance to."
Stephanie Trodello, 42, of Fenway, said she feels concerned about voters who write off the primary as unimportant.
"I've lived in Massachusetts my whole life and have seen apathy at the polls, but this is the worst turnout for a gubernatorial election," she said. "It sounds corny, but voting is a right and privilege. We have to take advantage of it and not take it for granted. Despite having a jam packed schedule, I found it important to make time for it."