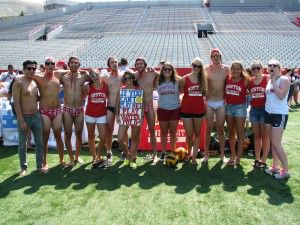 In stark contrast to the thousands of students who will flood the area in the next few hours, the Boston University campus is eerily quiet at 6 a.m., with just a few joggers breaking the monotony of the early morning commute on Commonwealth Avenue.
However, the scene tends to be much more lively on West Campus, as a group of individuals donning cleats and soccer gear on Nickerson Field are prepping for their upcoming campaign by running drills and scrimmages.
Committing to the idea of waking up and practicing at such early hours would make sense for any heralded Division 1 team, but that's not the case for this unit.
This is the Boston University men's soccer club team — a group of players who have set aside their schedules and committed hundreds of hours to practices and travel purely for the competition and the love of the sport.
"Dedicating yourself and wanting to be good at club [sports], is really no different than if you want to be good at men's varsity basketball or men's varsity soccer," said Intramural and Club Sports Manager Scott Nalette. "We might not have the organized study halls and organized team meals every day…but in general, some of these teams are getting up early [for practice] before class because that's when the fields are available."
The men's soccer club team's early practices and dedication certainly do not make them an outlier of BU's 32-club roster, which has as many as 900 participants practicing several times a week with their respective club sport and playing most of their games on weekends.
Taking part in club sports at BU is much more than simply showing up to play, as each team has a set of responsibilities, including generating funding and planning trips to road games.
"They are kind of your movers and shakers on campus," Nalette said. "These are student leaders…These are highly active, highly engaged and obviously very smart people, so they have a lot of on-campus presence."
A significant amount of responsibility, when it comes to running these self-administered teams, lies in each club's set of elected officials, who are responsible for attending meetings, filing paperwork, overseeing team finances, forming travel itineraries and reserving facilities — certainly no easy task when juggling classes and other commitments.
"They're devoting large chunks of their time each day and each week to managing their team and making sure it runs, because if they don't do that, it doesn't get done," Nalette said. "We're here to help you along the way. We're here to help you get any questions answered, talk to other schools, whatever it is, but in general, it starts with the students."
The praise goes both ways between the teams of BU club sports and management, as many club officials have commended Nalette and other program leaders for both their accessibility and stance on letting each group operate independently.
"Scott is really easy to get along with," said BU inline hockey club Vice President Mark Flitsch, a senior in the College of Communication. "It's really no issue for us to come to them when…anything goes wrong. There's a lot of trust and loyalty in the club-to-advisor relationship."
There seems to rarely be a dull moment with any club on campus, as most teams play both home and away games against a multitude of teams while participating in various leagues. Often times, certain clubs are able to generate enough money to organize team trips to national tournaments, as the women's volleyball club made the trek to both Dallas and Reno, Nevada, over the past two seasons.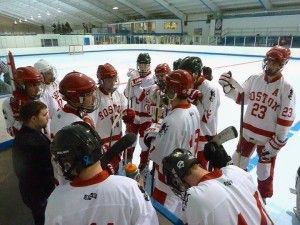 "It's just a great bonding experience," said BU women's volleyball club President Kevyn Garcia, a junior in the School of Management. "When you fly to Dallas and you worked really hard during the year to fundraise, you get to go with your whole team and all the members, and everyone works really hard. That was great."
While it may not have the flash of varsity sports, club sports are certainly no joke, Nalette said.
"It's highly competitive," he said. "There are some teams that people choose BU to play on that team. People choose to come here to be on the figure skating team. People choose to come to BU to be on the equestrian team. That's a major decision maker in their process of looking at colleges.
"We get calls from juniors and seniors in high school and their parents every year, because they see our club sports program, they learn what club sports are…and a lot of them are forgoing playing D-III [Division 3] varsity somewhere because they want the BU/Boston experience."
While BU clubs take themselves more seriously than a normal pickup exhibition or intramural match, Garcia acknowledged that she still appreciates the fun-loving atmosphere that playing in a club sports environment presents.
"I think club sports are so appealing to so many people because it has athletes that are just as competitive as a D-I sport, yet it's not as much commitment, and you can still enjoy the sport," Garcia said. "You don't have to be the best player out there. You can be having fun and really be a team player."
The BU club sports program has come a long way since the men's rugby and sailing clubs were established in the early 1970s, and with word of mouth from current players about the positive takeaways from joining the ranks of the program, Nalette said he expects that many teams' presence on campus will only continue to flourish as time goes on.
"Schools are more and more going to start evaluating the benefits of clubs, the program, the benefits that all the students get, and frankly, the low cost that it costs a university to run a club sports program," Nalette said. "We're going to start to see a proliferation of knowledge of what club sports are passed down the ranks to younger people, and that's going to start to influence their college decision more, which is only going to influence how important universities look at the program on campus."