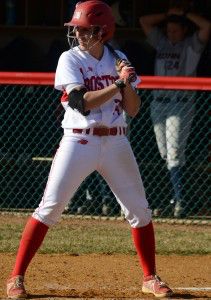 Coming off a Patriot League title in its inaugural season in the conference, and an appearance in the NCAA Tournament, the Boston University softball team should be content with its 2014 season, but instead the memory of its heartbreaking loss to Louisiana State University is the one that has endured.
The Terriers (36-21, 13-5 Patriot League) had a 3-1 lead heading into the top of the seventh inning with junior pitcher Melanie Russell seeking the complete game.
Then the wheels fell off.
After getting the first out, a mix of singles, home runs and an untimely error allowed the Tigers (38-24) to charge back into a game that finished with BU on the short end of an 8-3 tilt, even though only one of those eight runs was earned.
"They responded extremely well, and they left on a high being excited about what we accomplished and also knowing what we could have done," said BU coach Kathryn Gleason. "Being two outs away of beating LSU, they're hungry to finish a game like that and be on a national stage again."
Almost four months have passed since that day though, and the Terriers have just started to get their 2015 campaign underway. The team practiced Monday for the first time this season, and they have six exhibition games scheduled for September and early October.
These games give BU some much needed time to develop and figure out what its strengths will be for the upcoming year. The Terriers will even get to play rival Boston College twice in these contests.
"We've had some coaching changes in the summer, so it's a different group, but our foundation and our standards stay the same, and we just build upon that," Gleason said. "We're six practices away from playing, and we're very excited about that."
BU returns only three seniors while adding eight freshmen, after losing leaders such as outfielder Jayme Mask, shortstop Brittany Clendenny, catcher Amy Ekart and first baseman Chelsea Kehr to graduation.
Clendenny finished with the school record for RBI in a season with 53, while Mask batted an astounding .402 with a career-high 76 hits, all while stealing 34 bases.
Although BU softball is losing several members, they still retained several key offensive players in sophomore outfielder Moriah Connolly, sophomore third baseman Brittany Younan and senior outfielder Emily Felbaum.
"They came back in shape and ready to go," Gleason said. "We're excited to pick up where we left off, and we have a great group of seniors who are ready to lead us from where we were in Tucson to the new season. We have eight new freshmen, and the seniors have really been showing them the ropes. [We're] only three days in, but we're really excited about it."
Younan is the reigning Patriot League Rookie of the Year and was a member of the Patriot League Second Team last season. She finished with an impressive .379 batting average, while accumulating 67 hits on the year.
BU will not skip a beat on the mound, as they return all of the team's starting pitchers from last year, including Russell, who made the Patriot League All-Conference First Team and added a perfect game to her resume.
With a pitching rotation that ranked second in the conference in ERA (2.82) last season and third in opponents' batting average (.255), the Terriers should once again sport one of the best staffs in the Patriot League.
While the returning players will have a significant effect on the team, a considerable amount of the work will fall on the newcomers. The eight freshmen will have to prove themselves this year, but Gleason does not see this as a problem.
"They're hungry and very good players. They just have to learn how we do things, how we take the field, how we approach practice and all the drills in practice," Gleason said. "It might be new drills and new faces, but the game's the same."