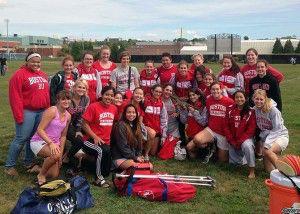 It was an exciting weekend for Boston University club sports, as multiple squads kicked off their respective seasons both across campus and around New England. Here are a few highlights:
Friday, Sept. 12
BU Club Cricket falls to Harvard University, 195-192
The Boston University cricket club team started off its season with a match against Harvard University at Jordan Field in Allston. The Crimson won the opening toss and elected to bowl first, with the Terriers opening the game seemingly scoring at will before eventually settling for 192 runs in 19.3 overs. However, Harvard would respond, reaching its core of 195 runs in 18.3 overs to earn the win.
Saturday, Sept. 13
BU Women's Club Rugby def. University of Rhode Island, 39-12
The Boston University women's club rugby team earned an encouraging win over the University of Rhode Island in Kingston, Rhode Island. The Terriers jumped out quickly to a 20-0 first half lead thanks to three tries from junior outside center Beth Lazarus and a try from junior flanker Paige Stathopoulos. The Terriers continued to further their lead in the second half while only allowing URI to capitalize on two tries en route to the 39-12 win.
BU Men's Club Rugby falls to University of Rhode Island, 51-26
Armed with a large grouping of new participants, the Boston University men's club rugby team suffered a loss at the hands of the University of Rhode Island, 51-26, in its season-opening match. Junior flanker Austin Yarnell had BU's first try of the match, with junior prop Fernando Torres and junior fullback Arshan Tarapore also scoring for the Terriers.
BU Club Cricket def. Dartmouth College, 162-150
The Boston University cricket club could not replicate its success batting-wise in their second game of the season against Dartmouth College, posting a score of 162 for the loss of nine wickets in 20 overs. However, the BU bowlers picked the team up, holding Dartmouth to a score of 150 runs for the loss of nine wickets in 20 overs, giving BU its first win of its season in its home opener at New Balance Field.
Sunday, Sept. 14
BU Men's Club Soccer def. Tufts University, 2-1
The Boston University men's club soccer team opened up its season Sunday morning at Nickerson Field, taking on Tufts University. The Terriers started off strong, entering halftime with a 1-0 lead thanks to a score from H-Soba Vincent. After Tufts rallied to knot the game at one goal apiece in the 70th minute, BU responded, as midfielder Peter Luce headed in a free kick with just a few minutes remaining in the contest to earn the victory.
BU Men's Club Water Polo falls to Boston College, 9-7
The Boston University men's club water polo team took the loss against Commonwealth Avenue rival Boston College in a scrimmage at the BU Fitness & Recreation Center pool. Junior Josh McDonough opened up the scoring for the Terriers who ended the first quarter with a 2-1 lead. The Eagles would dominate the next two quarters, scoring six goals while holding the Terriers to three scores to jump out to a 7-4 lead. BU would score three more times in the final quarter, but the Eagles sealed the win with two additional scores.