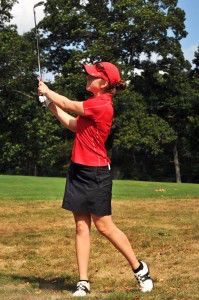 The Boston University women's golf team, looking to improve on an already impressive 2013-14 campaign, came ready to play in its season-opening tournament at the Dartmouth Invitational in Hanover, New Hampshire.
The Terriers compiled the best 36-hole score in program history, finishing with a two-day total of 595. BU stormed out of the gates Saturday with a score of 291 — another program record — giving the Terriers a 17-shot lead entering Sunday.
A second-day score of 304 put the Terriers over the top, as second-place Boston College finished with a final score of 613.
Junior Emily Tillo led the way for BU, posting a second-day 74 for a total score of 144 en route to her first collegiate win. Junior Maddy Silverman also turned in great showing Sunday, recording a 74 to tie Tillo for the low round of the day.
Sophomore Adela Cejnarova earned third place at the event with a two-day total of 149, while seniors Kristyna Pavlickova and Flor Canedo finished fourth and ninth, respectively, with scores of 150 and 152.
Freshman Phyllis Tang had a solid performance in her debut with the Terriers, tying for 14th on the leaderboard with a score of 155.
The Terriers will have some time off following their victory, as the team's next test will come at the 54-hole Yale Intercollegiate in New Haven, Connecticut, from Sept. 26 to 28.
Men's tennis kicks off season at Brown Invitational
The Boston University men's tennis team also started its 2014-15 season on a good note with an impressive showing at the Brown Invitational in Providence, Rhode Island.
Sophomore Jake De Vries earned the singles Flight 4 title, starting the tournament with a 6-3, 6-3 win over University of Connecticut's Josh Palmer before besting Brown University's Thomas Nath in a 6-3, 6-4 affair.
In the flight 4 semifinals, De Vries dispatched Bryant University's Ernesto Arguello, 6-3, 6-2, before defeating Bryant's Rick Rubenstein in a 6-3, 3-6, 10-7 match to claim the title.
Despite falling to Bowdoin College's Luke Tercek, 7-5, 7-6, in the first round of the Flight 2 singles, sophomore Mario Sandoval rallied, winning the consolation bracket after posting three straight victories, including a 6-4, 6-4, victory over Colgate University's Luke Lorenz to claim the bracket.
Taking part in the Round Robin Flight, junior Josh Hurd earned three wins before falling to Bryant's John Templeman, 6-3, 6-1.
In doubles, senior Emilio Teran and freshman Mario Nicosia won the consolation bracket of the Flight 4 set, while Sandoval and sophomore Lucas Bombonatti reached the finals of Flight 2 doubles before losing to Bryant's Matt Kuhar and Arguello.
BU will have the weekend off before returning to the courts to take part in the UConn Invitational in Storrs, Connecticut, on Sept. 26 to 28.