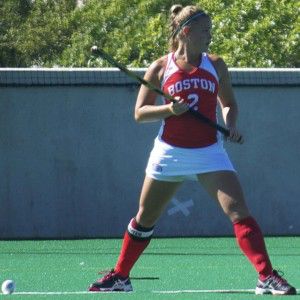 Following a start to the season in which the Boston University field hockey team faced three ranked non-conference opponents, the Terriers will open Patriot League play this weekend as part of a two-game set that pits them against Lafayette College in Easton, Pennsylvania, and Yale University at home.
BU (2-3) is coming off yet another heart-wrenching loss against No. 11 Boston College on Sept. 12 — its second defeat at the hands of its rival in two years. After tying the game up late in the second period, junior Kelcie Hromisin scored the golden goal in the 82nd minute to give BC (5-1) the 2-1 victory.
No strangers to tough losses this year, the Terriers have dropped a double overtime game (at No. 15 Northwestern University on Aug. 29) and a 3-0 blowout (at No. 8 Stanford University on Sept. 5) in addition to their overtime defeat at the hands of the Eagles. Following each of these games, however, BU has responded with a win, a trend which brings praise from BU coach Sally Starr.
"It's a team that's very determined and a team that's not looking too far past to upcoming games," Starr said. "They really work hard and go one practice at a time and one game at a time. It's an easy thing to say, but it's really difficult to do, and we do it well."
Coming off a disappointing 6-12 season with just a .500 conference winning percentage last season, Lafayette (4-2) has turned the program's culture around this year.
Facing BC at home to open their season, the Leopards overpowered the Eagles, scoring four goals, two off the stick of sophomore Amanda Magadan, and cruising to the 4-2 victory and handing BC its only loss this season.
As of late, Lafayette has sputtered, dropping two of its last three matches, but on the whole, it has impressed. The Leopards have proven to be a potent offensive juggernaut, posting a .232 shot percentage and a .667 shot on goal percentage as a team, which has led to 16 goals in just six games. By comparison, the Terriers have scored a mere eight goals in their five games this season, a product of their less-than-stellar .574 SOG percentage.
Junior fullback Rachel Coll and the rest of BU's defense will be on high alert, looking to contest shots and block passing lanes against a technically-sound Lafayette team, Starr said.
"We just have to play good team defense," she said. "We need to maintain numerical superiority during transition defense and respect their attack. I also want to see us give less penalty corner opportunities, which we really worked hard on in practice this week. We worked on closing our attack lanes in order to limit their chances."
After traveling to Easton to face the Leopards Saturday, the Terriers will return to New Balance Field Sunday to face off against the Bulldogs (1-3).
In its most recent tilt against Yale back in 2012, BU came away with a 2-0 victory in the last game of the season to cap off its membership in the America East conference.
Thus far, Yale has struggled with its non-conference opponents, dropping games versus Hofstra University, Sacred Heart University and the University of California-Berkeley. Led by senior Heather Schlesier in goal, Yale's strength is its defense. Protecting the cage this season, Schlesier has a 1.94 goals-against average and a .789 save percentage with one shutout in the Bulldogs' only win this season against Quinnipiac University.
"Kind of the opposite of what we want on defense, we need to create numerical superiority with good transitional play on offense," Starr said. "For the BC game, I thought we played best when we passed the ball on attack.
"We need to continue to put defenses in decision-making situations so we can cause some mistakes, and we need to move the ball and make the extra pass on the offensive end."