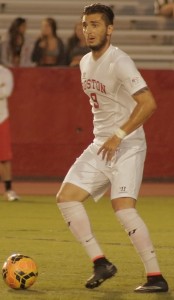 The Boston University men's soccer team will be looking for its third win in three games when it welcomes Princeton University to Nickerson Field Saturday.
After being starved for goals through the first four games of the season, the Terriers (4-2) seem to have found their way on offense, scoring four goals in their last two games — doubling the team's total goal scoring from the season's opening four matches.
"We've been around the goal for the last four games really," said BU coach Neil Roberts. "We just finished around the goal, and in all the games, we've had opportunities. As long as you continue to create chances, they are going to fall for you."
The most important of those goals may have come in the 16th minute of the team's 2-1 win over Northeastern University, as senior forward Dominique Badji finally managed to put the ball in the net for the first time all season.
Badji led the Terriers in shots with 28 before Tuesday's affair, yet he had no goals to show for it. The Dakar, Senegal native also added an assist on the game-winning goal from freshman midfielder David Amirani during the tilt against the Huskies (2-4).
Another key part in BU's strong play has been the goalkeeping performance of senior Nick Thomson.
Thomson has started every game this season for BU after only appearing in three matches in the 2013 season due to the solid play from sophomore Matt Gilbert.
Gilbert placed second in 2013 in the Patriot League with 4.47 saves per game while shutting out opponents in six of his 15 games started.
"We'll see how it goes. Nick came in really sharp and put in a lot of hard work over the summer," Roberts said. "He was clearly the sharper goalkeeper coming out of the summer, and he's really performing so far."
With three shutouts in six games so far this season, it does not look like Thomson will be giving up the starting job any time soon.
Combine that with Thomson's 0.49 goals against average, it all lends to the fact that this may be a big year for the senior.
"Like for everybody, it's day to day, and we know what Gilbert can do," Roberts said. "He's a good goalkeeper, so we'll obviously try and get him some games as it goes along."
Meanwhile, the Tigers (1-2-1) come in to Saturday's game with eight goals scored in their first four games played, including a 5-4 win over Seton Hall University on Sept. 14.
Seniors Cameron Porter and Julian Griggs, who have collected eight and five points, respectively, lead Princeton.
"Princeton's a very good passing team. They're very well organized," Roberts said. "They're scoring goals, so that's something to be concerned about, but they have always been known as a team that keeps possession of the ball and finds open people, so it should be a good soccer game."
Even though Princeton boasts a dynamic offense, they face a weakness in the form of its goalkeeper.
In four games so far this season, goalkeeper Ben Hummel has allowed 10 goals matched against 22 saves for an unimpressive .688 save percentage.
This upcoming game will be important for the Terriers, as it is their final tune-up before the team enters Patriot League play. Roberts said he is pleased with the progression of his team in the early going of the 2014 campaign.
"I am real happy with the group and that in every game, they seem to find a way to get a little better," Roberts said. "They have been prepared mentally for each game. They have been ready to play and compete. There has not been a game so far where they have not been ready to compete."