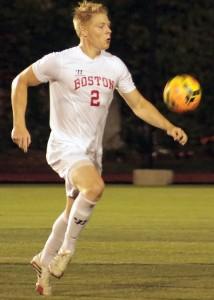 The Boston University men's soccer team has seen a recent surge in its offensive production after scoring only two times through its first four games. Previously, the team was blanked by both Siena College on Sept. 3 and Brown University on Sept. 7 while relying on single goals to defeat Fordham University on Aug. 29 and Iona College on Aug. 31.
However, the Terriers (4-2-1) have put in two goals a game in each of their last three contests against the University of Massachusetts-Amherst, Northeastern University and Princeton University. While plenty of scoring chances were being created this season, the Terriers — now in midseason form — have started to finish in front of the net.
"I think we have always been around the goal in all of the games, so it's a matter of knocking in our chances," said BU coach Neil Roberts. "We've hit the crossbar some and been unlucky, but now we are capitalizing more."
When the Terriers take on the United States Naval Academy in their opening match of Patriot League play on Sept. 27, it will be interesting to see if this diverse offensive output continues.
In its inaugural Patriot League season in 2013, BU went 3-6, failing to live up to lofty expectations due to an onslaught of early-season injuries.
"It's the beginning of our second season," Roberts said. "We get to prove where we are on the field and that starts Saturday."
Terriers receiving scoring from midfielders 
The center midfielder trio of freshman David Amirani, sophomore David Asbjornsson and senior Jordan Barker has risen to the occasion by putting in more offensive production the last few matches.
Barker and Asbjornsson each registered a goal for the Terriers against the Minutemen (1-5), while Amirani scored the game-winning goal late in the foul-laden match against Northeastern (2-5). Meanwhile, Amirani and Asbjornsson both contributed assists in the team's recent 2-2 draw against the Tigers (1-2-2).
"Our midfield has been a work in progress throughout the season," Roberts said. "Jordan [Barker] is an attacking player. David [Amirani] is a little of both."
As these players have emerged as more consistent offensive threats, BU has been able to turn a two-game losing skid into a string of recent positive results.
The trio's rise also means that opposing teams are no longer able to solely focus on containing senior forward Dominique Badji. Badji leads the team with 36 shots, but he is no longer the only threat to score. Amirani, Asbjornsson and Barker have 12, seven and 10 shots, respectively.
As midfielders, their role is to provide a link between defense and offense, by breaking up plays, stringing together passes and creating opportunities for others. Their primary responsibility may not be scoring the goals, but Roberts and his staff have welcomed their offensive contributions.
Due in part to this more balanced Terrier attack, additional players could see their offensive rumblings turn into more consistent production this season. Sophomore forward Felix De Bona scored against Iona (2-3-2), junior midfielder Richie Robertson added assists against Fordham (3-2-1) and Northeastern junior forward Lucas McBride scored the game-winner versus the Rams.
Badji is still grabbing the headlines after contributing three goals in his last two games. He received an Honorable Mention for Patriot League Player of the Week honors following his efforts. Nonetheless, it must be noted that key offensive contributions are coming from other sources as well.
"We are still not there, but we are close and working on them getting comfortable in their roles," Roberts said. "David [Asbjornsson] and Jordan [Barker] were injured last year, and obviously David [Amirani] is new, so it's three new guys in there. We're pretty close to it."