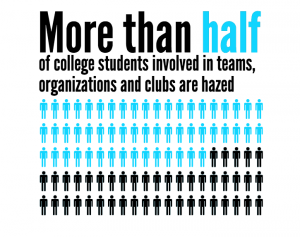 Spread across the tables in the Boston University George Sherman Union Link is a banner covered in marker-traced handprints, signatures and Greek letters. "These hands don't haze," the banner proclaims with pride.
This week is National Hazing Prevention Week, a yearly initiative begun by HazingPrevention.org to address the national issue of hazing, defined by the Fraternal Information & Programming Group as "any action taken or situation created, intentionally…to produce mental or physical discomfort, embarrassment, harassment or ridicule," in all organizations, including athletics, Greek life and honor societies.
Here at BU, our university's Panhellenic Council and Interfraternity Council are making extensive efforts to spread awareness of the alleged horrors of hazing that have plagued Greek Life nationally since its genesis, including a hazing panel on Tuesday and weeklong social media campaign.
"Fraternity and sorority life has really taken on this leadership role within this initiative because our community nationwide has really been hit with some of the hard-hitting issues that come with hazing," said Liza Moskowitz, president of BU's Panhellenic Council. "So BU Panhel and IFC really wanted to take this opportunity to address what broader issues fraternity and sorority life are facing across the country and how BU can be a model of excellence in promoting healthy and empowering fraternity and sorority life communities."
Stories of pledges being beaten with paddles, drinking excessive quantities of alcohol and forfeiting themselves as slaves to their organization represent traditions passed down through generations of fraternities and sororities. Some victims of hazing will tell you how miserable it was and will call for an end to the age-old practice. Others will tell you it made them better, stronger people, and was the bedrock of their loyalty to the group.
"The reason why [hazing] continues to occur…is that it is a tried and true method of developing young people," wrote John Talty in a December 2011 op-ed for the International Business Times. "It has the ability to turn a jamoke into a man, which is extremely important for that person's long-term success. College fraternities and sororities love to point out the amount of former presidents and CEOs that were once a part of Greek Life…How many of them do you think were hazed in some capacity during their time in school?"
It is true that enduring difficult situations may make you a stronger person. Many find strength through their power to endure illnesses and traumas, but those are matters of uncontrollable circumstance, not the results of a pledge master's demands. People also claim they grew closer to their fellow members as they were forced to endure the humiliation of hazing, forming unbreakable loyalties. But plenty of bonds have been formed through positive situations.
What doesn't kill you only makes you stronger, right? Well, people have actually been killed in incidents of hazing. In 2011, Robert Champion of the Florida A&M University Marching Band died in the band's ritual of making the new members walk while old members bludgeon them with instrument paraphernalia. And in 2012, George Desdunes of Sigma Alpha Epsilon at Cornell University died of alcohol poisoning after being blindfolded, bound with duct tape and forced to drink in a standard hazing ritual.
Physical violence aside, hazing often encompasses mental abuse and person humiliation. Pledges, rookies and new members are forced to do things they never would in normal circumstances. Records of older girls forcing pledges to take off their clothes while they circle the parts of their body they think should be toned and playing endless mind games prior to initiation, all for the sake of the society, are passed through generations of sisterhoods and brotherhoods. These humiliations seek to indoctrinate members into the group mindset, but often are more successful in destroying the confidence of each individual.
"Hazing is extremely counterproductive to the purpose of what sororities were founded for," Moskowitz said, speaking from the sorority perspective. "Sororities were founded 160 years ago as a conduit that women could pursue because undergraduate institutions were not welcoming to women. These small societies were a place women could go for empowerment and for these women to really grow together. From that reasoning…hazing is the exact opposite."
Maybe hazing happens so often in collegiate settings because the students can't go home and tell their parents or other family members who would be concerned. Victims of hazing are warned of the disloyalty of telling others what they endured, which probably accounts for the fact that only 26 percent of victims tell their parents about their hazing. The desire to belong to the group keeps victims coming back for more.
No human has the right to make another human feel they are not important. Any society grown from the common bonds of its members has a responsibility to empower, not physically and mentally torture its initiates. No hands are worthy of hazing.