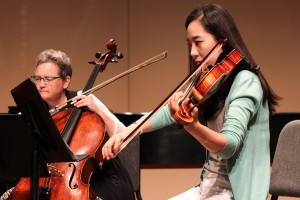 Music for Food, a service based performance organization, is hosting a benefit concert Thursday night in Boston University's Tsai Performance Center to contribute to hunger-relief efforts.
Proceeds from Thursday's concert, featuring a classical trio and quintet, will go to BU's Student Food Rescue, a Community Service Center program.
"49 million people in this country face food insecurity," Music for Food spokesman Robert Cinnante said. "… She [Founder Kim Kashkashian] wanted to find a way for artists to use their music for social good, for a very recognizable issue, and what better than to serve the most basic human need, which is food."
Since 2010, Music for Food has traveled nationwide with 75 artists and provided over 100,000 meals for those in need, Cinnante said.
The concert will showcase the Triple Helix Piano Trio, an internationally recognized, Boston-based classical music group.
Trio violinist Bayla Keyes said she has performed for Music for Food before and enjoys inspiring the group's audience to contribute to fighting hunger.
"It joins people in a way that they are not joined in everyday life, and it makes everyone feel part of a larger whole," she said. "Music for Food's mission is along the same lines of an even larger whole, because now we feel like we're all joining together to try to make a difference in the world, and the music is the best vehicle that I have for doing that."
Nicole St. Louis, a project manager for the Student Food Rescue, said the concert reflects how hunger has come to the forefront of prevalent issues in the public eye.
"Now that food waste is kind of becoming more of a public, more seen problem, people are getting more inspired and thinking of ways that they can help, whether it be with their diet, or donating, or just helping out around the city," said St. Louis, a senior in Sargent College of Health and Rehabilitation Sciences.
Becky Brown, another Student Food Rescue project manager, said a portion of the proceeds will go towards transportation to foster collaboration with other food-services organizations.
"Without what we do, a lot of organizations throughout Boston would go without a significant critical portion of their food, so just a tank of gas allows us to get from point A to point B and provide for those people who don't have access," Brown, a senior in the College of Arts & Sciences, said.
Several students said they support Music for Food's mission, and hope the concert raises a significant amount of funding for hunger relief.
Megan Collins, a junior in SAR, said the concert brings attention to the cause in an engaging way.
"The music aspect of it is also really successful because you can come and experience something and enjoy it and also they can put a message behind it too," she said.
Laura Douglas , a freshman in CAS, said she hopes to see a large turnout at Thursday's performance.
"This is an effective way to raise money because there is no cost to the organization to run it," she said. "[But] a strictly classical show might limit the turnout because it's a specific type of music that caters to certain people."
CAS senior Malisha Shah said Music for Food was remarkable in its ability to mesh a personal connection to performance with a larger connection to a widespread issue.
"It's a very effective way [to raise money]," she said. "Music is a great way because it already has an element of touching people in different ways, and you get to explore two different types of changing peoples' lives."