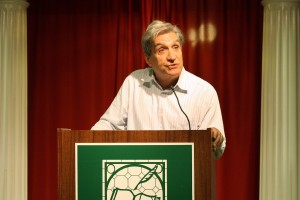 Poet Robert Pinsky and a panel of members of Boston University's Master of Fine Arts program visited Barnes & Noble at BU Wednesday to showcase Pinsky's latest anthology, answer questions from attendees and offer writing advice.
Pinsky, a former United States Poet Laureate and consultant in poetry to the Library of Congress, was joined by Dan Chiasson, Karl Kirchwey and Luisa Caycedo-Kimura, all colleagues at BU's MFA program, to read poems from Pinsky's new anthology, "Singing School: Learning to Write (And Read) Poetry by Studying the Masters."
The Pinsky appearance was the first of Barnes & Noble's author events for the school year.
Pinsky addressed his audience of about 40 people with a brief introduction of his fellow speakers and his anthology, which he described as "a book of my life."
"Help me read from this book, which is kind of the book of my life. It's more than an anthology of me," he said to the crowd. "The more wild, more surreal the thing that you are writing about is, the more matter of fact and ordinary your language should be. If you write about something very surreal and unlikely, you must describe it in the most calm terms as possible."
Pinsky's new book is a collection of poems grouped together to gain a better understanding of poetry from the masters of the past, he said. No current poets are included in the book, which Pinsky explained was intentional.
"I think you can be wilder and more innovative, encouraged to do things that are stranger, if its not the generation of your teachers or your own," he said.
After Pinsky spoke, each panel member read a poem, speaking to why each poem was selected and offering insights to reading and writing poetry.
Chiasson, first to read a poem, said hearing the work he selected aloud inspired him more than reading it to himself.
"It [silently reading the poem] did not have the third dimension the human voice brings to it," he said.
Caycedo-Kimura, a recent graduate of BU's MFA program and a lecturer for BU's Metropolitan College, said she chose to read her poem because her husband, a visual artist, started writing poetry when she did, adding that "one of the tools he has to use is actually Robert's books."
Pinsky offered advice to those interested in pursuing poetry recreationally and professionally.
"Go to favoritepoem.org, which is a website established by BU. It was my main project when I was the Poet Laureate," he said. "You will see poetry not as part of an academic program, not as part of a coterie of artists, but as something these people love in their own voices. That is a good place to start."
He concluded the event with a reference to the closing of Keats' "On First Looking Into Chapman's Homer" by saying directly to the audience, "I wish you all a wild surmise."
Jannell McConnell Parsons, a recent MFA graduate living in Kenmore, recommended BU's MFA program to those interested in continuing their education in creative writing or for those wanting to pursue a doctorate.
"I think for people who have their hands in more than one pot, it is a really nice one year to dedicate full time to," she said.
Jean Berry, of Cambridge, a former Boston high school librarian, said her school carries a number of Pinsky's books.
"He is a very powerful reader with his poetry," she said. "It was fascinating, I was taking a few notes."
Judy Chambliss, of Brookline, said she was eager to hear from Pinsky, whom she considers to be a talented poet.
"Pinsky is a fine poet," she said. "I thought it would be interesting to hear what he had to say about what you could learn about reading and writing from the masters."