For Karen Jacobs, cooking in her Student Village II apartment at 33 Harry Agganis Way is more than just her way of encouraging students to make healthy choices.
"As a faculty-in-residence, I want students to feel comfortable coming to my home," she said.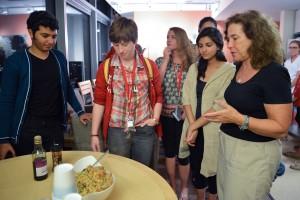 Jacobs, who has been a faculty member in Sargent College since 1983 and has lived in StuVi2 since its opening in 2009, has made it her mission to bring students together to help them develop healthy lifestyles by hosting a night of cooking, playing games and bonding every week.
Having never lived in a college dorm herself, Jacobs jumped at the opportunity to serve as a faculty-in-residence.
Before StuVi2, Jacobs lived in Warren Towers, still cooking for students but not yet following healthy recipes. After moving to the 23rd floor of StuVi2, Jacobs decided to add that component to her love of cooking by approaching Sargent Choice, a program that works with Boston University's dining halls to provide healthier options for students.
Walking into Jacobs' apartment, one wouldn't expect how homey it feels from simply looking at the door. Crammed into the apartment are family pictures, ornate decorations from Jacobs' travels and the smell of something good cooking.
The Sargent Choice Test Kitchen, as it has been dubbed, is held on Wednesdays from 8 to 11 p.m. Sargent Choice provides all the healthy vegetarian recipes for Jacobs and the students – returning or brand new – to make.
While not all the recipes go directly into the dining hall, last year, two new recipes found their way to students: Tofu sticks with dipping sauce and chana masala with whole-wheat naan bread. These recipes, along with others, can be found on the Sargent Choice Nutrition Center blog.
While some of the recipes are more complicated than others, Jacobs said all the featured dishes are made with practical ingredients and are accessible to students on a budget.
As a clinical professor in the department of occupational therapy in SAR, Jacobs spreads the word about the Test Kitchen to current students and advisees like SAR senior Janvi Patel, who has been going to the Test Kitchen since her freshman year.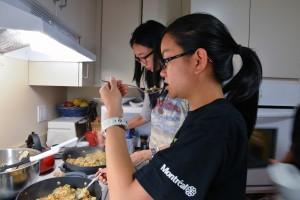 Patel said she had never tried sushi before coming to BU. As a vegetarian, she admired Jacobs' vegetarian sushi recipe, which she is "famous for," according to Patel and other students in attendance.
Although Sargent Choice is always sending new recipes over to the Test Kitchen that Jacobs then prints out for everyone who attends, there are a few popular recipes that are done each year.
Despite sometimes having more than 40 students in attendance, the Test Kitchen usually has leftovers for people to snack on. But extra food isn't the only thing that draws students to StuVi2 on Wednesday nights.
"I like how welcoming it is," said Melissa Gallanter, a freshman in SAR.
Gallanter heard about the program through her sister Suzanne, a SAR senior. She said that after her first time experiencing the Test Kitchen, she wants to come back every week "if my homework allows it."
To make everyone attending more comfortable, Jacobs starts the program off by serving tea and facilitating icebreakers for those who attend to get to know one another. While the food is cooking, Jacobs brings out games like Apples to Apples or Bananagrams so students can take a break from their busy academic lives and relax.
While primarily SAR students know about the Test Kitchen, there are others who have found their way to Jacobs' apartment through other means.
"We have nothing better to do, and we wanted to see StuVi2," said Sabina Razak, a College of Arts and Sciences freshman who discovered the test kitchen by looking through BU's calendar. "I miss homemade food."
First-year occupational therapy graduate student Rachelle Brick has only attended Sargent Choice Test Kitchen twice, but said she already hopes students from other programs will discover this healthy gem on the 23rd floor of StuVi2.
"It's a late night snack," she said. "Who doesn't love that?"