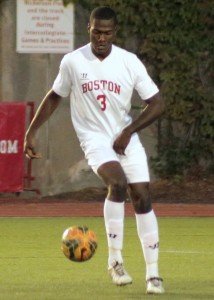 The Boston University men's soccer team will open up Patriot League play Saturday against the United States Naval Academy at Nickerson Field.
Picked to finish sixth in the Patriot League preseason poll, the Terriers (4-2-1) will be out to prove that early-season rankings are just that. Their play has been balanced by a recent surge in offensive output and defensive solidarity. Notable wins have come against in-state rivals Northeastern University (Sept. 16) and the University of Massachusetts-Amherst (Sept. 13), with 2-1 and 2-0 results respectively.
A strong midfield trio of freshman David Amirani, sophomore David Asbjornsson and senior Jordan Barker has carried the team lately, as well as the recent scoring streak of senior forward Dominique Badji. Together, the four players have accounted for 16 of the team's 23 points on the season.
Two of these players have recently received national media recognition. Badji was named to the College Soccer News National Team of the Week while Amirani was picked as the Corvias ECAC Rookie of the Week.
Strong performances along the back line have come from freshman defender Bjarki Benediktsson, junior defender Jeroen Blugh and senior defender Kelvin Madzongwe. Anchored by senior goalkeeper Nick Thomson, the defense has posted a respectable 0.68 goals-against average.
The Terriers are coming off an up-and-down 2-2 double overtime draw against Princeton University on Sept. 20, in which they allowed a season-high two goals and 15 shots throughout the contest. A level of consistency will be sought on both ends of the field by BU coach Neil Roberts and his players as the games begin to carry more weight.
"Our competitiveness has been very good," Roberts said. "Our level of play has been spotty. We need to be more consistent in execution and possession and move the ball more efficiently. We are working on teams who high-pressure us, and hopefully we'll be better at it than we have been so far."
BU's conference opponents, the Midshipmen (4-3-1), have experienced a similar run of results to start the season. Most recently, Navy defeated Longwood University 2-0 on Sept. 23. This result followed successive defeats to George Washington University and the New Jersey Institute of Technology.
"It's a big game," Roberts said. "They are very skillful and have most of their guys back. They are extremely hard-working and possession-oriented. They beat [The University of Maryland] too, which is impressive. They have talented players and some depth."
For Navy, forwards Thomas Shiiba and Jamie Dubyoski have led the front line by chipping in two and four goals, respectively. Navy's offense has also been supplemented by strong play from midfielder Daniel Camuti who has registered three goals of his own.
Defensively, the Midshipmen have allowed one goal a game, with goalkeeper Jackson Morgan starting six of the team's eight games.
In terms of conference play, Navy has a track record of strong performances. In the 2013 season, the Midshipmen posted a 9-0-0 conference record and advanced to the second round of the NCAA Tournament. For the 2014 season, Navy was picked first in the conference preseason poll released Aug. 21, but Roberts does not look too much into those rankings.
"We don't really use the rankings much," Roberts said. "We respect Navy. They're a very good team. We use our last couple games as a 'where we are' type of thing. Not as much as where people think we should be."
With this in mind, a surging Terrier squad and steadfast Navy team should produce an entertaining match as conference play gets underway. BU is carrying a sense of excitement as the Terriers are presented with the opportunity to prove themselves against a quality opponent.
"That's the good thing about the [conference] season," Roberts said. "We get to prove where we are on the field, and that starts Saturday."