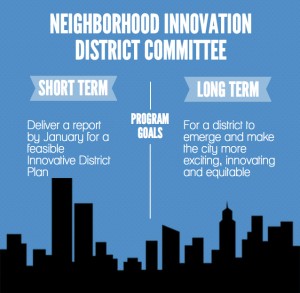 Boston Mayor Martin Walsh announced Friday the creation of the Neighborhood Innovation District Committee, a group of local professionals tasked with expanding innovation and entrepreneurship in Boston.
"This committee will focus on policies, practices and infrastructure improvements to support the development of innovation districts embedded in our neighborhoods throughout the city," said Gabrielle Farrell, spokeswoman for Walsh, in an email.
Edward Glaeser, professor of economics at Harvard and director of the Rappaport Institute for Greater Boston, said he is excited to co-chair the committee with John Barros, chief of economic development for the City of Boston.
"We need to ensure that entrepreneurs are not stymied by excessive regulation," Glaeser said in an email. "We need to listen to the would-be entrepreneurs of the city and hear what they need. The short-term goal is to deliver a report by January at the latest for a feasible Innovative District Plan. The long run goal is for a district to emerge and for that district to make the city more exciting, innovative and equitable."
The committee's members are local leaders and experts who represent Boston's entrepreneurial force, Farrell said.
"Members of this committee were chosen from all relevant constituencies, from colleges and universities, to local businesses and government, to economic development and infrastructure communities," she said. "Each of them were chosen by the committee co-chairs and approved by Mayor Walsh on account of their proven commitment to the economic, government and community resilience of the City of Boston, in their respective industries."
The committee's first meeting will be held Oct. 1 from 6 p.m. to 7:30 p.m. at Roxbury Community College. Members of the public are encouraged to attend, Farrell said.
"This committee will expand and identify opportunities for ​entrepreneurship and job creation for people of all backgrounds and walks of life," she said. "The creation of this committee shows Mayor Walsh's commitment to all of Boston; innovation can and does belong to everyone. This committee is developing a long-term road map so that Boston can continue to be strategic about how we develop and foster innovation."
Several Boston residents said they are excited about the committee's potential to foster new economic opportunities throughout the city.
"Where I live, it's residential, so it can be difficult to organize a proper commercial setting for certain types of jobs and for entrepreneurs to get started," said Chris Eisenberg, 30, of Brighton. "If this committee can create that setting in those places, it will be great. Overall, the committee has good goals, and it's a great idea for the future."
Some residents, however, said they were skeptical of the necessity of the committee.
"It's good that this committee is trying to expand entrepreneurship, and if they're really going to do that, then that's great," said Taylor Doherty, 22, of Dorchester. "But I'm assuming those people are getting paid to be on the committee and getting a nice, fat salary. I don't think that's right because there are a lot of people who are not employed right now, and I don't know how useful this committee will be."
Caroline Trainor, 25, of Charlestown, said she is looking forward to how this committee will benefit students and the generation that is entering the work force.
"Boston is a thriving city for young entrepreneurs," she said. "We crave this new tech-savvy, next generation type mindset. Boston is a hub for colleges and universities, which attracts young talent to the area. I think the start of this committee will create great opportunities for graduating students since it will hopefully make more jobs available."