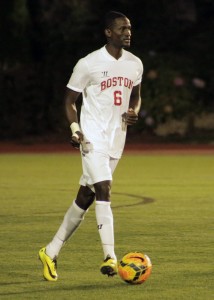 In the past few games, the Boston University men's soccer team has been playing with a three-man back line, something that is rarely found at the professional, international or collegiate game.
There are risks involved as wide spaces can be easily exposed, while the three defenders are highly susceptible to shots as they balance pressuring the ball and giving up space.
Previously, the BU (5-2-1, 1-0-0 Patriot League) defense faced 15 shots against Princeton University on Sept. 20, which at the time was a season-high. However, this mark was broken as the Terriers allowed 24 shots against the United States Naval Academy Saturday.
"There were a lot of shots, but that doesn't always tell you everything," Roberts said. "A lot of the shots that [senior goalkeeper] Nick [Thomson] had to deal with were from distance or were pretty much right at him. He probably had to make three really good saves, which may be a little more than you would like from a goalkeeper. They had a lot of possession, and I was more concerned with that than the actual shots they had."
Despite this high shot total, senior defender Kelvin Madzongwe's play stood out. Against Navy (4-4-1, 0-1-0 Patriot League), he intercepted countless passes, headed away cross after cross and continually tackled opponents.
"You look at a man of the match, and it was definitely Kelvin," Roberts said. "Kelvin, especially when [junior defender] Jeroen [Blugh] went out, made up for a lot of mistakes and covered for a lot of people out there."
Madzongwe may not be the most vocal of players, but his play and veteran leadership have done the talking.
Thomson leading Terriers
Thomson turned in his finest performance of the season against the Midshipmen Saturday. He recorded nine saves on the evening and continually marshaled his back line, garnering league recognition as the Corvias Patriot League Goalkeeper of the Week.
Several times, Thomson made impressive saves and robbed Navy of seemingly sure goals. Despite surrendering one goal on the evening, a 79th minute header by Navy forward Alex Evans, the BU goalie controlled his penalty area throughout the contest.
"He's worked extremely hard over the spring and summer this year, and he's playing well," Roberts said. "[Navy] kept him busy, and he did a good job, especially in the first half. A lot of shots were point blank at him, but he held onto everything, and there were no rebounds. It's good to see it. He works extremely hard."
Opponents have scored just 0.75 goals per game against the Terriers this year, and Thomson's calming presence is a big reason for this. Whether it is his shot-stopping instincts or his ability to handle crosses or distribute the ball, Thomson's play has been crucial as of late.
Strong offensive output continues
For the fourth game in a row, BU scored two goals after putting two past Navy goalkeeper Jackson Morgan.
Previously, the Terriers put two goals against the University of Massachusetts-Amherst in a 2-0 victory Sept. 13, a 2-1 win over Northeastern University on Sept. 16 and a 2-2 draw against Princeton (3-2-2) on Sept. 20.
BU's attack has overcome its early season struggles and is now benefitting from some opportunistic finishing and consistency.
"We're scoring goals and are creating good opportunities," Roberts said. "There are going to be games when you aren't going to get the shots that you want, but again, it's taking advantage of your chances.
"I'm happy with the way it's developing, but I still think we can do a little bit better with our final third play. We were definitely better in the second half than the first half."
Barker stands out
Senior midfielder Jordan Barker may not be the flashiest of players, but his play has been crucial to the Terriers success as of late. His assist on senior forward Dominique Badji's goal against the Midshipmen brought his point tally to three on the season, but his contributions extend far beyond the stats sheet.
"Jordan Barker is probably the most unsung hero," Roberts said. "If you really know the game and watch the game, the amount of work he puts in [for each] game is really unbelievable. If we track how much grass he covers, it would be amazing, just in terms of how many miles he puts into a match."
Barker has played 737 minutes on the season and started every game, despite missing four games during the 2013 campaign. There is no surprise the Terriers' strong stretch of play has coincided with Barker's stellar play.
"He's another player who was hurt last year, and where he is now in comparison to last year is just night and day," Roberts said. "Jordan Barker has just been incredible over the past few weeks."