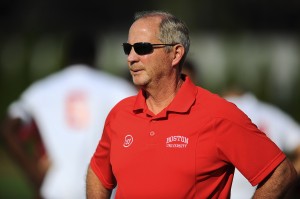 Standing alone at midfield on Nickerson Field, Boston University men's soccer coach Neil Roberts was all too familiar with his surroundings.
After all, he's been monitoring the pitch here for 35 seasons.
Roberts was honored before Saturday's match against the United States Naval Academy for his 30 years as head coach of the Terriers — a position he's held since taking over for former BU coach Hank Steinbrecher during the 1985 campaign.
Roberts first joined the BU soccer corps in 1979 as an assistant after a successful run with Southern Connecticut State University, leading the Owls to two-straight NCAA Tournament appearances during his junior and senior seasons.
While the Braintree native said he was excited to join the Terriers, he added that his original role with BU was part of a job opportunity that he didn't originally expect he would take.
"I was supposed to work at Bentley [University]," Roberts said. "I took this instead of going to Bentley, and I've been very privileged and fortunate to be doing this for as long as I have."
Roberts soon made BU his home, assuming the duties of head coach of the Terriers after Steinbrecher left the position, later becoming the secretary general of the U.S. Soccer Federation in 1990.
Fast-forwarding to the present day, the man of the night spent little time reflecting during his pregame ceremonies. It was all business for Roberts, who has accumulated five National Soccer Coaches Association of America New England Coach of the Year accolades during his time on Commonwealth Avenue.
The Terriers emerged victorious Saturday, defeating the Midshipmen, 2-1, in BU's Patriot League season opener. While some of the biggest takeaways from the conference tilt revolved around Roberts' legacy with the Terriers, the long-time coach deflected his postgame comments away from himself, focusing instead on his team's hard-fought win.
"The win does not really mean anything special," Roberts said. "It means three points in the league — which is big."
Roberts has set a trend of big expectations and a commitment to success that has made the BU men's soccer team one of the premier varsity sports programs on campus.
Roberts has compiled 324 wins during his time with the Terriers, securing 11 regular-season titles, seven conference tournament championships and 13 NCAA Tournament appearances along the way. He has also coached a multitude of talented players at Nickerson Field, mentoring 13 All-Americans and nine academic All-Americans.
Among the notable players that Roberts has helped coach include Andy Dorman of the New England Revolution, Michael Bustamante of the New York Red Bulls and Michael Emenalo, the current technical director at Chelsea F.C.
While Roberts expects big things from his players this season, senior goalkeeper Nick Thomson said the atmosphere Roberts has maintained at BU has been a big help for him.
"I think him and the environment that he created with the assistant coaches and players and the whole set up is just fantastic," Thomson said. "He's definitely one of the top reasons I came to BU."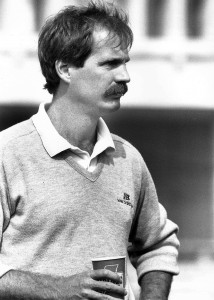 Thomson was the star of the Terriers victory on Saturday with a career-high nine saves. When asked to reflect on his career with BU, Thomson said he would not be in his current spot without the guidance of Roberts, who installed the Cramlington, England native as the team's starting goalkeeper for the 2014 season, despite only playing in three games in 2013.
"He had confidence, and he had the faith in me when a lot of freshman goalkeepers do not really get that much time," Thomson said. "Junior year was a tough year for me with injuries, and I was not playing well, but he kind of stuck by me and was positive that I would come back.
"He gave me loads of confidence coming into the year, saying that I looked really sharp. He's a fantastic coach, and it's been a pleasure. 30 years is a long time, and he has been absolutely fantastic to me."
Though Roberts has been with BU soccer longer than any of his current players' lifetimes, he still stays grounded — focusing only on the game at hand.
"These kids want the three points, they fought hard for the three points, and whether it was Wednesday, Saturday, wedding anniversary, birthday or whatever, the three points is important," Roberts said.
After the win against the Midshipmen, Roberts kept his postgame comments short and to the point, as the seven-time America East Coach of the Year had a multitude of former players waiting to greet him in the locker room following the game. It was an unsurprising gesture from Roberts, who has dedicated most of his life to coaching young soccer talent.
In a job where turnover at the coaching position is expected, Roberts personifies a level of coaching that very few coaches can claim: he is staying for a while. BU was his first coaching job, and he looks content to be here for the long haul — a scenario that might have seemed like an unbelievable notion when he first took the job with the Terriers back in 1979.
"I did not think I would be here 35 years later," Roberts said. "I had some kids that I used to play with that were on the team, and the coach was looking for someone to be an assistant coach for $1,000 a year. The guys on the team wanted me to do it, so I said sure. I really thought it would be for one year."