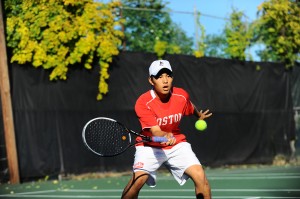 The Boston University women's golf team continued its fall campaign this past weekend, taking part in the Yale Intercollegiate in New Haven, Connecticut.
Competing against 16 teams across 54 holes, the Terriers finished sixth in the three-day event. BU's 917 strokes put them just one stroke behind fifth-place University of Pennsylvania. Yale University, the host school, was victorious with a total team score of 887.
Sophomore Adela Cejnarova led the way for the Terriers. The Prague native posted a second round score of 72 to go along with two 77s that brought her three-day total to 226. Her performance was good for a tie of 15th place.
Playing in the second event of her BU career, freshman Phyllis Tang tied for 25th place with three rounds under 80 and an overall score of 230. Tang has opened her collegiate campaign with five straight rounds under 80.
Junior Emily Tillo put up the Terriers' best single-round score, shooting a 73 on Saturday. Also competing for the Terriers were seniors Flor Canedo and Kristyna Pavlickova.
Next up for the team will be the Diane Thomason Invitational at the University of Iowa on Oct. 4.
Men's tennis participates in UConn Invitational
After a strong showing to open up the season at the Brown Invitational Sept. 12 to 14, the Boston University men's tennis team continued its success this past weekend at the University of Connecticut Invitational in Storrs, Connecticut.
In the top singles flight, sophomore Jay Leelavanich posted three dominating wins before falling to junior Jonas Kuwert of Quinnipiac University in the finals 6-4, 7-5. Also in Flight A, junior Stefan Lemire reached the quarterfinals, where he faced off against senior Jacob Spreyer of the University of Connecticut. In a heated battle, Spreyer came out on top 2-6, 6-3, 10-7.
Sophomore Mario Sandoval was the Terriers' top finisher in Flight B, defeating competitors from Quinnipiac and the University of Hartford before dropping a three-set contest to freshman Jonathan Edwards of UConn in the semifinals. Sandoval's classmate, Jake De Vries, had a tougher time, going 1-1 in the bracket.
Flight C saw sophomore Lucas Bombonatti put up three straight-set victories over opponents from Siena College, UConn and Quinnipiac. The Houston native met up with freshman Kyle Alper of Quinnipiac in the finals and could not sustain the momentum, losing 6-4, 6-1. Senior Emilio Teran struggled in Flight C play, dropping both games to players from Bentley University and Quinnipiac.
Rounding out the Terriers in singles play were sophomore Miguel Cepeda and freshman Mario Nicosia in Flight D. Cepeda lost his first match but went on to record three straight victories to win the consolation bracket. Nicosia lost two close matches to opponents from Sacred Heart University and Siena.
BU fared less successfully in doubles action. In Flight A, Lemire and Leelavanich lost their only match and De Vries and Sandoval went 1-1. Flight B saw Bombonatti and Cepeda defeat a duo from Bryant University before dropping a tight contest to freshmen Mathieu Pilote-Schraenen and Cory Seltman of Sacred Heart.
The Terriers will wait until Oct. 10 to 11 to take the court again, when they will compete in the Massachusetts Institute of Technology Invitational in Cambridge.