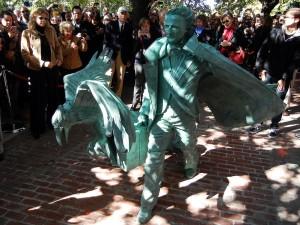 In commemoration of the 165th anniversary of Boston native Edgar Allan Poe's death, the Edgar Allan Poe Foundation of Boston unveiled a life size statue of the poet Sunday at the intersection of Boylston Street and Charles Street.
Titled "Poe Returning to Boston," the bronze statue depicts the poet, who was in born in Boston and lived in the city until he was 3 years old, at his true height of 5-foot-8-inch in full stride with a raven by his side. About 100 students, professors and fans attended the event at the corner known as Edgar Allen Poe Square.
"Poe had a contentious relationship with Boston," said sculptor Stefanie Rocknak, a BU alumna who worked on the project for three years. "I did not want to make him heroic sized, because he was not a hero in Boston. Big things can come from small people."
Poe is best known for his poetry and short stories, such as "The Raven," "Annabel Lee" and "The Tell-Tale Heart."
At the unveiling, Boston University professor and poet Richard Pinsky read Poe's "Eldorado," a poem about a knight's search for the legendary city of gold.
The $225,000 installation of the statue was funded by the Edgar Allen Poe Foundation, the Boston Art Commission, a donation from writer Stephen King and fundraising efforts from curator Susan Tane of the Edgar Allen Poe Collection at Cornell University, Rocknak said.
Rocknak said, while building the sculpture, she chose to represent Poe in a humble sense, indicative of his attitude toward the city.
"This sculpture celebrates Poe's relationship with Boston and reflects his complications with the city," she said.
Several attendees said the statue is a creative way to commemorate Poe and engage the public with some of its local history.
Emily Powers, a recent graduate from Boston College, said the ceremony links Poe back to Boston and instills a greater connection to him for the greater public.
"'[The] Tell-Tale Heart' was published in The Pioneer, and that was based out in Boston," she said. "The statue helps remind us that Poe did start out in Boston, and even though he had some choice words for other poets in Boston, there's still a very strong connection that we need to keep in mind, and the statue helps us do that."
Writer and poet John Martino, of Boston, said he is happy to see the city acknowledging writers and artists.
"There should be more commemorations like that, little plaques on the walls of the building where the writers lived and where they wrote," he said. "Instead of generals and rich people statues, let us get statues of Walt Whitman…A lot of famous writers lived and came through Boston."
Adair Small, of California, said she is a big supporter of public art, and she appreciates how engaging the statue is.
"This is a wonderful opportunity to bring this and to bring a writer like Poe more into the public consciousness, especially in such an interactive way," she said. "The sculpture is so engaging and prompts people to ask questions if they do not already know about Poe's work."