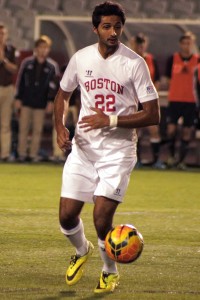 The Boston University men's soccer team defeated the United States Military Academy by a score of 2-0 Saturday afternoon at Nickerson Field. While senior forward Dominique Badji and sophomore midfielder David Asbjornsson contributed a goal apiece, it was the performance of freshman midfielder Adam Sheikali that stood out in the match.
Sheikali, who had previously started one other game during the 2014 season, slotted into the right side of the Terriers' (6-2-1, 2-0 Patriot League) three-pronged defense due to injury to junior defender Jeroen Blugh.
The Peachtree City, Georgia native logged his first 90 minutes of the season, all while continuing to showcase his poise on the ball and positional awareness along the back line.
BU coach Neil Roberts had nothing but praise for Sheikali's performance against the Black Knights (3-4-3, 0-2 Patriot League).
"Adam's a very good player," Roberts said. "He's really a midfielder, but right now, we just need to try and get him on the field as much as possible because he's such a good soccer player. He's going to be a real good player. What you saw today was the beginning of it."
During the first half, every Army attack seemed to go up Sheikali's side. The consistent pressure did not unnerve the freshman, who displayed tactical awareness not usually seen in a freshman player.
"[Coach Roberts] emphasizes us talking to each other and always making sure we are supporting, telling each other if there's a man on or not," Sheikali said. "Practice after practice, he's telling us that sometimes you're going to have to move into the midfield or drop back. You just have to make sure you're letting each other know and moving as a unit."
Sheikali continually evaded Army's high pressure, covered for his teammates, clogged key passing lanes and found the feet of his midfielders further upfield.
"Coach has been stressing most importantly that we need to get out wide and create space and not clog the middle," Sheikali said. "Once we create space on the outside we just have to make sure we are looking for our teammate's feet and not forcing the ball in. We are trying to be simple while at the same time not being predictable."
The Terriers went down to 10 men due to a 75th minute red card to fellow freshman midfielder Eric Udelson. The loss in no way deterred Sheikali, as he buckled down defensively and helped play a key role in the Terriers' fourth shutout of the season.
"I thought it was incredible," Sheikali said. "I honestly never expected to play that much and just to be out there with all the guys really was awesome. We got a little bit unlucky with the red card at the end, but everyone stepped up together as a team."
One of Sheikali's brightest moments came in the 85th minute as the Black Knights were flooding numbers forward. An Army cross was swung in from the left, but Sheikali got across his attacking counterpart to clear away what appeared to be a sure goal.
As a natural midfielder, it is evident that Sheikali is taking both praise and criticism to heart as he further learns the defensive intricacies of the collegiate game going forward.
"It took a little bit to get used to, but the coaches have really helped me out and are patient with me," Sheikali said. "They kept encouraging me and letting me know it is going to take some getting used to, but now I'm getting used to it and flourishing in it. They're continuing to bring me up and help me out with positive criticisms. Overall, I'm really starting to get a feel for it."